Pumpkin Timbales
Pork Tenderloin Stuffed with Pimiento
Potato Gratin with Sage
Broccoli with Butter and Herbs
Pumpkin Timbales with Shallot/Prosciutto Garnish
Total time: 40 minutes
   Canned pumpkin, which is normally pure pumpkin with nothing added, is a delicious vegetable, suitable for much more than pies.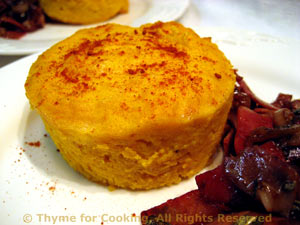 Ingredients:
 Instructions:
Butter 2 ramekins and line bottom with buttered parchment or waxed paper.
Make 2 more circles and butter one side for the top.
Put the egg in a medium bowl and whisk lightly.
Add yogurt, nutmeg, and whisk.
Add the pumpkin and stir well to combine.
Spoon into ramekins.  Put the paper circle, buttered side down, loosely on top.
Put ramekins into a baking pan (I use a bread pan) with deep sides. Pour hot water into the pan coming half way up the sides of the ramekins.
Bake in 400F (200C) oven for 30 minutes, until set - top will be firm.
Caramelized Shallots and Prosciutto:
Slice shallots. 
Heat 2 tsp olive oil in nonstick skillet over medium-low heat and add shallots.
Sauté for 20 minutes, until starting to brown. 
Add ham and continue to sauté until nicely browned, about 10 minutes longer.
To finish:
Remove timbales from oven and carefully remove ramekins from hot water.
Remove paper. Run a knife around edges of timbales and invert onto small plates. Remove bottom paper
Sprinkle with a bit of Paprika.
Garnish with Caramelized Shallots and Prosciutto.