Ham and Chive Mini Frittatas
Lightly Smoked Cod
Couscous and Green Bean Salad
Ham and Chive Mini Frittatas
Total time: 35 minutes
       These Frittatas look like cupcakes but are actually fluffy eggs, mixed with small bits of anything savory. These have a bit of ham, some cheese and lots of fresh herbs. They can be served, hot, warm or cold and are great to do ahead for a party or, in summer, a picnic.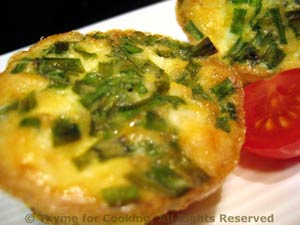 Ingredients:
1/2 cup diced ham, about 2oz (60gr)
3 eggs
1/3 cup (1.5oz, 45gr) shredded cheese
2 tbs snipped chives, fresh or dried
butter or cooking spray
6 cherry tomatoes for garnish 
 Instructions:
Cut ham into small pieces. 

*Butter or spray a nonstick muffin (tartlet) pan, one that holds 6. 

I know it sounds redundant to butter a nonstick pan but these will stick if you don't. 

Divide the cheese, ham and chives evenly between the cups.
Crack the eggs into a large bowl and whisk well. 
Using a ladle or spoon divide mixture evenly between the cups. 
Bake at 400F (200C) for 12 - 15 minutes or until set. 
Remove from oven. Frittatas will puff up considerably and then fall a bit. 
Allow to cool 5 - 10 minutes before removing from pan; they will start to come away from the sides of the pan as they fall making them easier to get out. 
Serve with sliced cherry tomatoes, warm or at room temperature.
*Note:  if your muffin pan is silicone you do not need to butter it.