Poached Eggs with White Wine
Braised Veal with Olives and Capers
Wild Rice Mushroom Pilaf
Poached Eggs in White Wine Mushroom Sauce
Total time: 25 minutes
     Poached eggs with red wine is a traditional dish of Burgundy.  This is a variation using white wine and mushrooms.  Use 1 or 2 eggs per person.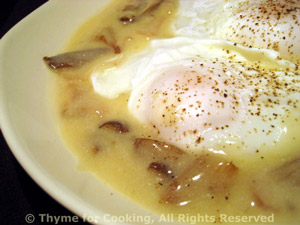 Ingredients:
1 1/2 cups (12oz, 360ml) white wine
1/4 cup (2oz, 60gr) Greek yogurt
4oz (120gr) mushrooms, any type
1 tbs olive oil
1 tbs cornstarch dissolved in 2 tbs water
1/4 cup red wine vinegar
2 - 4 eggs
 Instructions:
The Mushrooms: 
Clean, trim and thickly slice mushrooms. 
Heat oil in a nonstick skillet, add mushrooms and sauté until well browned.
The Sauce: 
Put white wine into a small saucepan and bring to a boil.
 Boil over medium-high heat, uncovered, for 5 minutes. Wine will reduce slightly.
Dissolve cornstarch in water and add to wine, stirring until thick and clear.
Remove from heat, stir in yogurt, mushrooms, cover and keep warm.
The Eggs:
Fill a medium skillet with water. The water should be at least 1 1/2 inches deep.
Heat water over medium-high heat. Add vinegar. 
When water is softly boiling poach eggs: one at a time break egg into a small saucer. Swirl a spoon in the water where you will put the egg - off to one side. When water is swirling drop egg into center. With slotted spoon try to keep the white together.
Do next egg. 
With regular spoon scoop some hot water over tops of eggs. Poach for 2 - 4 minutes or until white is set but yolk is still very soft. (Or hard, as you like...)
The Finish:
Remove eggs with a slotted spoon, drain and put into a soup plate or flattish bowl. 
Spoon sauce around the eggs and serve, salt & pepper on the side.