Grilled Zucchini (Courgette) Salad
Barbecued Veal Chops
Potatoes with Dijon and Rosemary
Green Beans with Butter and Pine Nuts
Grilled Zucchini (Courgette) Salad with Feta and Olives
Total time: 15 minutes
   I used 1 small green and 1 small yellow courgette for this salad... Just for color and interest. A basket works best and helps keep the onion together in slices.   Serve the salad still warm from the grill.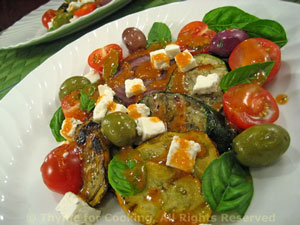 Ingredients:
2 small or 1 medium zucchini
1 red onion
1 tbs olive oil
1/2 tsp paprika
8 - 10 olives
8 - 10 cherry tomatoes
handful basil leaves
2oz (60gr) feta cheese
Sherry Vinaigrette:
1 tbs sherry vinegar
1 tbs ketchup
2 tsp Dijon-style mustard
2 tbs olive oil, for salad
 Instructions:
Cut zucchini into 1/3" (1cm) thick slices.  If using small zucchini cut at an angle for larger slices.
Slice onion. 
Lay zucchini and onion on a plate. 
Brush both sides with oil and sprinkle with paprika. 
Place in a grill basket and grill over direct heat for 7 minutes, turning once. 
Remove and arrange, slightly overlapping, on two plates.
Cube or crumble feta.
Cut tomatoes in half. 
Make vinaigrette:
Whisk vinegar, ketchup and mustard together in a small bowl. 
Slowly whisk in oil.
To finish: 
Top zucchini slices with tomatoes, olives, feta and basil leaves. 
Drizzle with vinaigrette and serve.