Baked Chevre with Prosciutto
Fish Pie with Salmon, Smoked Salmon and Savoy Cabbage
Baked Chevre with Prosciutto
Total time: 10 minutes
   These goat cheese rounds are often served on big, meal-sized salads for lunch at the small Bistros that are everywhere in France.  Thinner slices, garnished with some crisp Prosciutto, make a simple starter.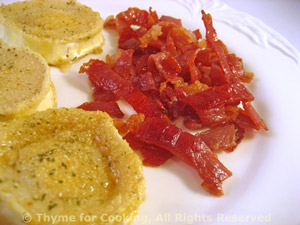 Ingredients:
 Instructions:
Slice cheese into 6 rounds (if small log). Each round should be between 1/4 and 1/3" (.75 - 1cm) thick.
Mix bread crumbs and dry mustard. 
Put onto a plate and put 2 tsp olive oil on another plate.
Dip both sides of the cheese into the oil, then the crumbs and place on a nonstick or lightly oiled baking sheet.  
Bake, 400F (200C) for 2 - 4 minutes, just until you see the tops sink slightly or cheese ooze slightly.  If it hasn't happened after 4 minutes, take them out anyway - they're ready.
Roughly chop the prosciutto and sauté in 1 tsp oil over medium high heat until they start to get crisp. 
Remove to 2 plates. 
When cheese is ready, add to plates and serve.