Asparagus Mimosa
Total time: 25 minutes
      This old 'brunch' classic makes a perfect spring first course. Get as creative or fancy with the design as you like.  For the photo I used a 'piping' bag for the mayonnaise ;-))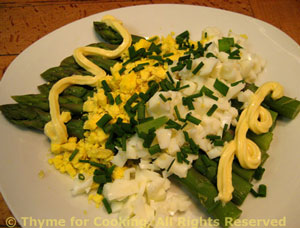 Ingredients:
7oz (210gr) asparagus
2 eggs
2 tbs snipped fresh chives
2 tbs mayonnaise
1 tsp Dijon mustard
1 tsp white Balsamic vinegar or white wine tarragon
 Instructions:
Hard boil eggs.
Snap off ends of asparagus.  If white use vegetable peeler and peel bottom half of stalk, laying it flat on the counter so as not to break it.  
Put asparagus in a skillet with a 1/2" (1.25cm) of water. 
Put over medium-high heat and simmer until just barely tender when pierced with a sharp knife, 5 - 10 minutes depending on thickness. 
Remove and rinse lightly in cold water to stop cooking / set color.
 Drain on paper towels.
Peel eggs and separate yolk from white. 
Finely chop white and yolk separately. 
Mash yolk with a fork to get very fine.  
In a small bowl mix mayonnaise, mustard and vinegar. 
Snip chives. 
Lay asparagus out nicely on small plates. 
Make a row of egg yolk just behind the tips of the asparagus, dividing evenly. 
Make a row of the egg whites just behind the yolk. 
Spoon the mayonnaise behind the egg whites. 
Sprinkle the chives over all and serve.