Apple Tart
Total time: 25 minutes
     This is very simple, easy and yet, properly impressive.  I sauté the apples lightly in butter to coat them and prevent browning as well as to start the cooking process so they soften sufficiently in the oven.... And because it adds a lovely flavor.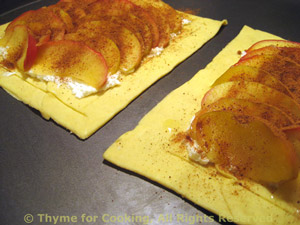 Ingredients:
1 large cooking apple
1 tbs butter
4 tbs ricotta cheese
1/2 tsp cinnamon
1/4 tsp nutmeg
1/2 sheet puff pastry
 Instructions:
Cut 2 squares, rectangles or circles out of the puff pastry... whatever works best, shape is not important.
Cut apple in quarters, through core. 
Slice out core, then thinly slice each quarter.
Heat butter in medium skillet, add apple slices and sauté over medium heat for 3 - 4 minutes, just until warmed through.
Lay puff pastry on baking sheet, either nonstick or lightly oiled.
With a knife lightly score a line around the edge of each pastry, about 1/3" (.75 cm) from the edge. Do not cut through the pastry! (A butter knife works best.)
Divide the ricotta spread within the scored lines.
Arrange the apple slices on the ricotta.
Sprinkle with cinnamon and nutmeg.
Bake in a pre-heated oven at 420F (210C) for 10 - 12 minutes, until sides of pastry have puffed around middle and are golden brown.
Remove and serve.