Butternut Squash Soup
Roast Turkey with Madeira
Sage, (Giblet) and Celery Stuffing
Fresh Spinach Gratin
Cranberry Cheesecake Pie
Roast Turkey with Sage Stuffing
Total time: 4 hours
    A stuffed 8 - 10 pound turkey will take 2 1/2 - 3 1/2 hours to took.  You need a meat thermometer so you don't over cook it.  It is overcooking that causes dryness.  BTW, I checked some of my many cookbooks for roasting times and they ranged from 2 1/2 hours to 4 hours for an 8 lb bird... that's a big range - get a thermometer.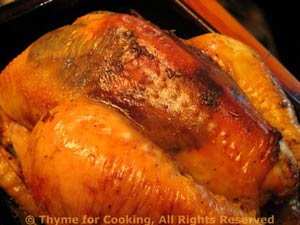 Ingredients:
1 small (8 - 10lb, 4 - 5 kg) turkey or large capon 
3 tbs soft butter
2 tsp dried sage
2 tsp dried rosemary
1 tsp Dijon-style mustard
1 - 2 cups turkey or chicken stock see below
1 cup (8oz, 240ml) Madeira
1/4 cup regular coffee or 1/4 tsp instant granules

2 - 4 tbs cornstarch dissolved in 2 - 4 tbs chicken stock

or more, depending on how much stock you have from the turkey
 Instructions:
Sage, Prosciutto, (Giblet) and Celery Stuffing
          Lay the bread out the night before to let it dry.  It, doesn't have to be perfectly, evenly dried.  If you are using the giblets add 4 more slices of bread.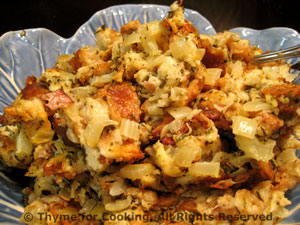 Ingredients:
 Instructions:
Chop the onion and celery.
Trim and chop the mushrooms, if using. 
Heat the butter in a large, nonstick skillet over medium heat. 
Add onions, celery,  (mushrooms) and sauté until tender, about 10 minutes.  
Chop the Prosciutto and add to the onions.  Sauté another 5 minutes.  
Set aside. 
Tear bread into small chunks and put into a large bowl. 
Add sage and thyme and mix well. 
Add celery/onions and chopped giblets and mix well. 
Now comes the hard part:
I can't tell you how much stock to use.  It depends on how dry your bread is, how moist the celery and onions are, etc.  Start with 1/2 cup and drizzle over the top of the bread chunks.  Mix well.  
Continue adding 1/4 cup at a time and mixing well.  Mixture should just start to cling together, not all of it but most of it, and none of the bread cubes should be totally dry nor should they be mushy.   Got it?   At this stage stop adding stock. 
In small bowl lightly whisk egg.
Fold into stuffing mixture and combine thoroughly. 
Stuff bird.
Refrigerate the remaining stuffing until ready to bake. 
An hour before dinner:
Put the refrigerated stuffing into a roasting pan, cover and put into the oven.  
Bake the stuffing for 30 minutes, remove cover and bake 15 minutes longer. 
Oven temp is whatever works for the rest of the dinner.  The stuffing in the bird will be very moist and in the pan rather dry - mix the 2 before serving.  
The finish: 
Remove the bird and put on a platter.  Cover with a foil 'tent' and let rest for 20 - 30 minutes. 
Pour juices from the roasting pan into a saucepan, adding stock to roasting pan to help scrape up the bits on the bottom if necessary. 
Skim off as much fat as you can. 
Add any remaining stock and/or Madeira and bring to a boil over medium heat. 
Taste - need anything?
Give cornstarch mix a stir and slowly whisk into the stock, stirring until thickened to your liking - more or less cornstarch as needed. 
Keep the gravy warm while you carve the bird. 
Remove stuffing from bird - both ends, and combine with baked stuffing. 
Carve, serve with stuffing and gravy on the side.