Turkey with Peanut Sauce
Total time: 30 minutes
    Turkey is a mild flavored meat, and works well with assertive sauces.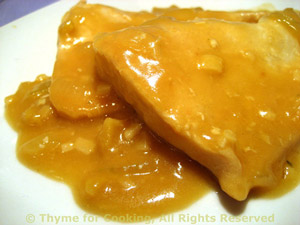 Ingredients:
12oz (360gr) turkey cutlets
2 cloves garlic
1 tbs fresh ginger, minced
1 tsp olive oil
1 tsp sesame oil
3/4 cup (6oz, 180ml) chicken stock
1 tbs soy sauce
2 tbs peanut butter
2 tsp cornstarch (maizena) dissolved in 1 tbs water
 Instructions:
Cut turkey into smaller pieces if needed. 
Mince garlic and ginger. 
Heat olive and sesame oils in a medium skillet.  Add garlic, ginger, and sauté briefly. 
Add turkey and brown lightly on both sides. 
Add stock, soy sauce and peanut butter. 
Stir well to combine, cover, reduce heat and simmer 10 minutes. 
Uncover and increase heat. 
Dissolve cornstarch in water, add to sauce, stirring until thickened..  Serve.