Turkey Cutlets with Creamy Mushroom Sauce 
Total time: 25 minutes
      You can use turkey tenderloin - sliced horizontally to make cutlets, or use chicken breasts.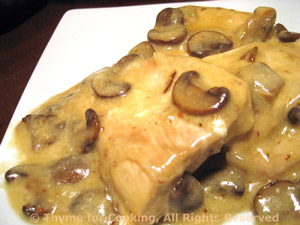 Ingredients:
12oz (360gr) turkey cutlets 
4oz (120gr) mushrooms
1 tbs Dijon-style mustard
1/2 tsp cumin
1/2 cup (4oz, 120ml) chicken stock
1/4 cup (2oz, 60gr) yogurt
2 tsp olive oil
 Instructions:
Trim and slice mushrooms.
Heat oil in medium nonstick skillet. 
Add cumin, mushrooms and sauté until mushrooms start to brown. 
Move to the side and add turkey cutlets.  Lightly brown on each side, about 5 minutes. 
Stir in mustard, chicken stock and simmer, uncovered, 5 minutes. 
Add yogurt, stir to combine and serve.