Turkey with Lemon and Honey
Orzo, Risotto Style
Broccoli, Hungarian Style
Turkey with Honey and Lemon
Total time: 20 minutes
    Thinly sliced turkey cutlets cook quickly.  There are flavored with lemon, honey and mustard for a quick pan sauce.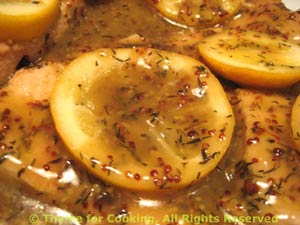 Ingredients:
12oz (360gr) turkey slices
2 tbs honey
1 lemon
1 tbs whole grain mustard
1/4 chicken stock
1 tsp thyme
 Instructions:
Slice the lemon and pick the seeds out of the slices.
In medium nonstick skillet sauté the turkey cutlets until lightly brown on both sides.
In a small bowl whisk together the mustard, honey and chicken stock. Spread onto the turkey slices.
Place the lemon slices on top, cover, reduce heat and simmer 10 minutes. 
Serve.