Recipe in:
Barbecue
(Chicken and Other Poultry)
Barbecued Chicken With Lemon and Herbs
Total time: 60 minutes       Prep early in the day or the night before 
    If you want cold chicken leftovers, do a whole chicken, otherwise just do your favorite pieces.  The herb mixture is enough for a whole chicken.  If you do the equivalent of half of a chicken (2 thighs and 2 legs would be my choice) cut the herb mix in half.  If you don't have all of the herbs, just leave them out rather than use dried.  If you have no fresh herbs, substitute 1/4 the amount, dried.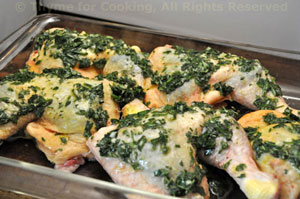 Ingredients:
1 chicken, cut-up, skin on   

 or your favorite pieces

4 tbs snipped fresh chives
4 tbs finely chopped fresh parsley
2 tbs finely chopped fresh thyme
2 tbs finely chopped fresh tarragon
2 tbs finely chopped fresh oregano
2 tbs finely chopped fresh basil
4 cloves minced garlic
1/2 tsp salt
1 tsp pepper
1/3 cup lemon juice
1/4 - 1/2 cup olive oil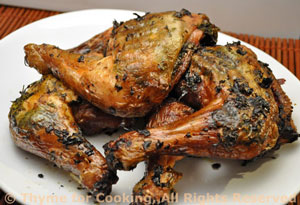 Instructions:
Early in the day or the night before snip, chop and mince herbs, garlic - you're making a paste so they should be fairly fine. 
Put all into a small bowl and add the lemon juice, salt and pepper.  Mix well. 
Add enough olive oil to make a thin paste - it won't hold together but it shouldn't be like a vinaigrette.
Loosen the skin on the chicken by slowly working your fingers between the flesh and the skin.  Try not to puncture the skin.  
With your fingers take a bit of the herb mixture and put it under the skin, smoothing it over the flesh.  Stretch the skin to cover and put in a glass baking dish of some sort, just large enough to hold all of the pieces.  You will want to put about half of the mixture under the skin of the pieces. 
When finished, add a bit more oil to the remaining herb mixture and rub/pour over the the top of the pieces. 
Cover with film and refrigerate until ready to cook. 
Cook on barbecue grill for 30 - 45 minutes. Chicken is done at 170F (76C) or when juices run clear - poke with a skewer or knife. Thighs and legs take a bit longer than breasts. Try not to overcook. Start it over direct heat, but watch carefully - the oil will cause flair-ups. Once it gets some nice color/flavor move it to indirect heat, close cover and let finish cooking.