Recipe in:
Barbecue
(Chicken and Other Poultry)
Grilled Chicken with Lemon and Herbs
Summer Basmati Rice Pilaf
Sautéed Chard with Tomatoes
Grilled Chicken Breasts with Lemon and  Fresh Herbs
Total time: 30 minutes
    You can use any combination of herbs you have: more of some and less of others, just try for 4 tbs total.  Cook the chicken a little slower, over indirect heat, to keep them moist and not burn the herbs... too much...
You could use skin-on chicken breasts or thighs and stuff the marinade under the skin.  Cooking time would be longer if they were also bone-in.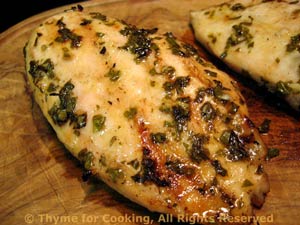 Ingredients:
2 chicken breasts, boneless, skinless
2 tbs olive oil
4 tbs lemon juice, fresh if possible
1 clove garlic, minced
1 tbs fresh snipped chives
1 tbs fresh snipped parsley
1 tbs fresh snipped basil
1 tbs fresh snipped tarragon
 Instructions:
In small bowl whisk together oil and lemon juice. 
Mince garlic, snip herbs and whisk into lemon and oil. 
Put chicken in shallow glass baking dish and spoon marinade over.  Let marinate 15 - 30 minutes.
Cook on barbecue grill over indirect heat 15 - 20 minutes or on baking sheet in oven (400F) for 25 - 30 minutes or until done. 
Baste with herbs and lemon after turning, then cover for 5 minutes. 
When done (knife poked in and juices run clear) remove from heat and serve.