Recipe in:
Barbecue
(Chicken and Other Poultry)
Grilled Chicken Aioli
Total time: 30 minutes
  The marinade is quite thick and adds lots of flavor to the chicken.  It also protects it from drying out on the grill. It makes a nice presentation to slice the breasts, thinly, at an angle to serve.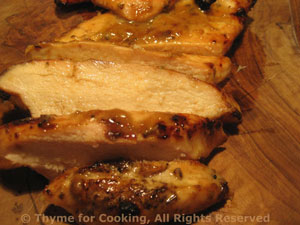 Ingredients:
2 chicken breasts, boneless, skinless
Marinade:
3 tbs soy sauce
3 tbs mayonnaise
3 tbs olive oil
1 tsp garlic powder - or 2 cloves minced
1 tsp dried oregano
 Instructions:
In small bowl whisk together the ingredients for the marinade - whisk well: it should emulsify (come together thickly).
Spoon over chicken breasts and let marinate for 10 - 15 minutes - or longer, up to 45 minutes. 
Remove from marinade and cook on barbecue grill for 8 - 12 minutes per side or until done (test - take a peak). 

OR

sauté in nonstick skillet for 8 - 10 minutes a side, until done. 
Serve, sliced or not.