Oven Fried Chicken with Potatoes
Brussels Sprouts with Mustard Sauce
Oven Fried Chicken with Potatoes
Total time: 50 minutes
     This recipe assumes bone-in chicken which has a longer cooking time than boneless.  This works well with any cut-up chicken parts. I get the thigh and leg in one piece and cut it, but could be left together.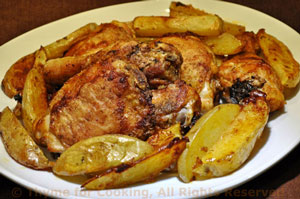 Ingredients:
2 chicken thighs
2 chicken legs
2 medium potatoes
2 tbs flour
1 tsp paprika
1/2 tsp chili powder
1/4 tsp salt
1/8 tsp black pepper
2 tbs olive oil
 Instructions:
Spread olive oil on a baking sheet with a rim.
Wash chicken and pat dry. 
In a plastic baggie mix the flour and spices. 
Add chicken and coat well. 
Lay on the baking sheet, skin side down, and bake 425F (220C) for 15 minutes.
Cut each potatoes into 8 wedges, the long way. 
Remove chicken from oven, add potatoes around the chicken and bake for 15 minutes.
Remove from oven, turn chicken, potatoes and bake for 15 minutes longer. 

Remove and serve

.