Chicken Stew with Sherry   
Total time: 50 minutes
    Sherry adds flavor notes that go well with stews.  It blends well with the traditional root vegetables and enhances the flavor of the chicken.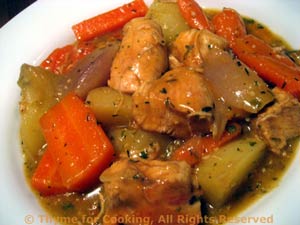 Ingredients:
2 chicken breasts, boneless, skinless
3 tbs flour
1 tbs paprika
3 - 4 shallots
2 medium carrots
2 potatoes
2 ribs celery
2 cloves garlic
1 tbs olive oil
1 tsp rosemary
1 tsp thyme
2 bay leaves (laurel)
1 cup (8oz, 240ml) chicken broth
1/4 cup (2oz, 60ml) sherry or white wine
1 tbs cornstarch (maizena) dissolved in 2 tbs chicken stock (if needed)
 Instructions:
Cut chicken into 1 1/2" (4cm) pieces.  
Put flour and paprika into a plastic food bag and mix well.  
Add chicken, close bag and toss well to coat thoroughly. 
Peel shallots and leave whole. 
Peel or scrape carrots, cut into 2 inch (5cm) lengths, then quarter the long way. 
Cut celery in half the long way, then into 2" (5cm) lengths.  
Mince garlic.
Heat oil in medium saucepan over medium-high heat.  Add chicken and brown quickly. 
Add garlic and sauté 1 minute. 
Add shallots, carrots, celery, herbs, broth and sherry. 
Bring to a boil.  Cover, reduce heat and simmer 5 minutes. 
Quarter the potatoes the long way then cut in half or thirds depending on size. 
Add potatoes to stew. 
Simmer 30 minutes longer, just until vegetables are tender.   Pierce vegetables with a fork or sharp knife to see if they are done; if not simmer another 5 - 10 minutes.
If desired, for a thicker gravy, dissolve cornstarch in chicken stock. 
Uncover, increase heat and remove bay leaves.  Add cornstarch mixture and stir until sauce is thickened.  Serve directly from pot or ladle into serving bowl.