Baked Sesame Chicken Strips
Total time: 30 minutes
    These have a lovely, crispy, crunch with a surprise Teriyaki flavor.  I cut each breast into 2 or 3 long strips. They bake faster and have more 'crust'.   If you prefer, you can just use breadcrumbs without the sesame seeds; and spray them with cooking spray, if you have it, rather than drizzling with oil.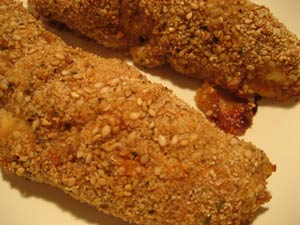 Ingredients:
 Instructions:
Cut chicken breasts into 2 or 3 long strips each. 
Using 3 flattish bowls: put the flour in one; whisk the egg and Teriyaki in one; mix the breadcrumbs, garlic and sesame seeds in one. 
Lightly brush a baking sheet with oil. 
Using your fingers, roll each piece of chicken in flour; then dip in the egg, coating all sides (let drain a bit); then roll in the crumbs. 
Lay on the baking sheet. 
Drizzle remaining oil over top. 
Bake in 400F (200C) oven for 15 - 20 minutes, until golden and crisp.