Tuna and Caper Mini Frittatas
Chicken and Cauliflower Savoyard
Twice-Cooked Potatoes
Chicken and Cauliflower Savoyard
Total time: 45 minutes
    Savoyard means to be cooked in the manner of Savoy, a mountainous region in the east of France, bordering Switzerland.  It usually also means there are runny, sharp cheeses in the sauce. When you pour the sauce over it looks like too much - but it settles down as it bakes ;-)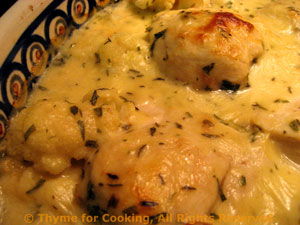 Ingredients:
2 chicken breasts - boneless, skinless
8oz (240gr) cauliflower, about 1/3 large head
1 medium onion
1 tsp dried tarragon
1 tsp dried thyme
1 tbs olive oil
1/4 cup (2oz, 60ml) dry white wine

Cheese Sauce:

1/2 cup (4oz, 120ml) chicken broth
1/2 cup (4oz, 120ml) white wine
1/2 cup (4oz, 120gr)  Greek or plain yogurt
1 tbs Dijon mustard
1 tsp tarragon
1/2 tsp thyme
3/4 cup (3oz, 90gr) shredded Gruyère or other strong cheese
1 tbs butter
1 tbs flour
 Instructions:
For chicken:

 
Cut onion in half and slice thinly. 
Cut chicken breasts in half. 
In nonstick skillet heat oil over medium-high heat. 
Add onion and sauté until tender, about 10 minutes. 
Add tarragon, thyme and chicken breasts and sauté until chicken starts to brown. 
Add 1/4 cup white wine, cover and reduce heat to low.  Simmer for 10 minutes. 

For cauliflower

:
Cut cauliflower into large florets. 
Put into a steamer over an inch of water and steam for 10 minutes.  Remove from heat and set aside.

For sauce:

 
Shred cheese. 
Melt butter in small saucepan over medium heat. 
Add flour and whisk well. Cook flour, whisking, for about 30 seconds. 
Slowly add wine, then stock, whisking constantly, until thickened. 
Bring just to a boil, barely. 
Add yogurt, mustard, herbs and heat through. 
Stir in cheese and cook, stirring, just until cheese is melted. Remove and keep warm.

To assemble:

Get a small baking dish (just large enough to hold everything and, if possible, nice enough to go directly to the table). 
With a tongs, remove the onions from the skillet and arrange in the middle of the baking dish. 
Lay the chicken breasts on top and surround with the cauliflower. 
Pour the sauce over all and bake, uncovered, in 400F (200C) for 20 minutes. 
Remove and serve.