Chicken Breasts with Onions, Bay and Thyme
O'Brian Potatoes
Butternut Squash, Roasted, White Balsamic Glaze
Chicken with Onions, Bay and Thyme
Total time: 35 minutes
     We think of bay leaves as something that is used in tomato based dishes, but they have a wonderful flavor that marries well with thyme, and shines through in this simple dish.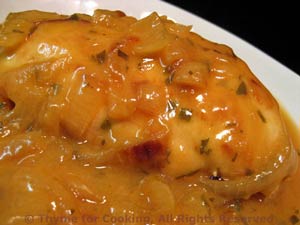 Ingredients:
2 chicken breasts, boneless, skinless
1 medium onion
2 cloves garlic
1 tbs olive oil
1 tsp thyme
2 bay leaves (laurel)
1/2 cup (4oz, 120ml) chicken broth
1/2 cup (4oz, 120ml) white wine
1 tbs tomato paste
1 tbs cornstarch (maizena, corn flour) dissolved in 2 tbs chicken stock
 Instructions:
Slice the onion and finely chop the garlic.
Sauté onion in oil in nonstick skillet over medium-high heat, about 5 minutes.
When onion starts to brown add garlic and sauté 1 minute longer.
Move onion and garlic to the sides of the pan, add chicken breasts, and sauté until lightly browned, about 7 minutes. 
Stir in thyme, bay leaf, wine, stock and tomato paste.
Cover, reduce heat and simmer until chicken is done, about 15 minutes.
Dissolve cornstarch in chicken stock.
Uncover skillet, increase heat and remove bay leaves.
Remove chicken to small platter.
Add cornstarch to onions and stir until sauce is thickened.
Spoon onions around chicken and serve.