Baked Chicken with Mustard Crust
Potato Gratin, leftover
Easy Courgette (Zucchini) Gratin
Baked Chicken Breasts with Mustard Crust  
Total time: 40 minutes
  The key to giving these a crispy crust is to drizzle them with olive oil after breading, before baking.  You could also spray them with olive oil or other cooking spray if you have it.  The crust keeps the chicken moist and the mustard adds an unexpected hint of savory sharpness.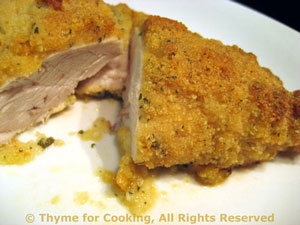 Ingredients:
2 chicken breasts, boneless, skinless
2 tbs Dijon-style mustard
2 tbs olive oil
1/2 tsp dried tarragon
1/2 tsp garlic powder
1/3 cup dried bread crumbs
1 more tbs olive oil
 Instructions:
In small bowl mix mustard, oil, tarragon and garlic. 
Spread on a plate or flattish bowl. 
Put bread crumbs on another plate. 
Roll chicken breasts in mustard mixture to coat thoroughly. 
Then roll in crumbs. 
Brush a baking sheet with a bit of oil and place breasts on
 Drizzle with remaining 1 tbs olive oil. 
Bake at 400F (200C) for 30 minutes or until topping is light brown and chicken is done (test if not sure, see techniques).
Remove and serve.