Asparagus / Quail Eggs
Chicken with Mascarpone and Shallots
Roasted New Potatoes with Chives
Sunchoke Gratin
Chicken with Mascarpone and Shallots  
Total time: 45 minutes
     I occasionally find a chicken recipe that leans more toward the decadent than the healthy and reserve it for a Saturday dinner (rather than a Monday).  This is loosely based on a recipe I saw years ago in Cooking Light magazine. I cut the chicken breasts in half, but you can leave them whole if you prefer.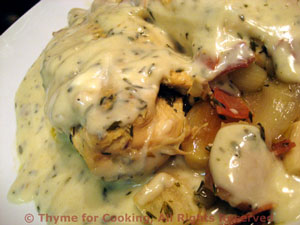 Ingredients:
2 chicken breasts, boneless, skinless
3 tbs Dijon-style mustard
2 tbs white Balsamic vinegar
2 tbs white wine
1 tsp dried thyme
2 slice Prosciutto (1.5 oz, 45gr)
4 shallots
4 cloves garlic
1 tbs olive oil
1 tsp dried parsley
2 bay leaves (laurel)
3/4 cup (6oz, 180ml) chicken broth
1/2 cup (4oz, 120gr) mascarpone
2 tsp cornstarch (maizena, corn flour) dissolved in 1 tbs water
 Instructions:
Mix mustard, vinegar, wine and thyme.
Cut chicken breasts in half, the short way, and put in a small dish or larger zip-lock bag. 
Add mustard mixture and allow to marinade for at least 10 minutes, but up to an hour. 
Peel shallots and garlic, leave whole. 
Slice the Prosciutto.
Heat oil in nonstick skillet. 
Add Prosciutto, shallots and garlic.  Sauté over medium heat until all is slightly browned, about 10 minutes. 
Remove chicken from marinade and add to skillet.  Reserve marinade. 
Sauté the chicken 5 minutes per side.  (They won't really brown, but it starts them cooking.) 
Add the reserved marinade, parsley, bay and chicken stock. 
Stir to combine, cover, reduce heat slightly and simmer for 20 minutes.
To finish:
 Remove chicken, shallots and garlic to a small platter and keep warm.
 Remove and discard bay leaves. 
Dissolve cornstarch in water.  Stir cornstarch into stock to thicken. 
When hot and bubbling again, turn off heat and add mascarpone, stirring well. 
Spoon sauce over chicken and shallots, serve.