Chicken in Dill Sauce on Pasta
Braised Carrots and Shallots
Chicken in Dill Sauce on Pasta
Total time: 30 minutes
    I jut cut the chicken breasts in half, but you could cut them into bite-size pieces and toss them with the pasta.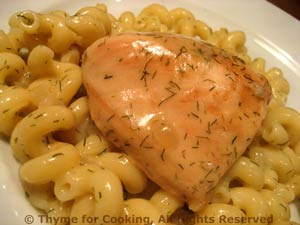 Ingredients:
2 chicken breasts, boneless, skinless
2 tsp olive oil
2 tsp dried dill weed
3/4 cup (6oz, 180ml) chicken stock
1/4 cup (2oz, 60ml) white wine
1 tsp Dijon-Style mustard
1 tbs cornstarch dissolved in 1 tbs water
1/4 cup (2oz, 60gr) Greek or plain yogurt
1 1/4 cups (4.1oz, 120gr) pasta, bite-size
 Instructions:
Cook pasta according to package directions.  Drain.
Cut chicken breasts in half the short way or into small pieces. 
Heat oil in a large skillet over medium heat.  Add chicken and brown lightly, about 4 minutes per side. 
Add stock, wine, mustard, dill, cover and simmer until chicken is done, about 15 minutes. 
Dissolve cornstarch in water and stir into skillet. 
Remove from heat, stir in yogurt. 
To serve:
Put pasta in a bowl. Add some of the sauce and toss to combine. 
Top with chicken breasts, remaining sauce and serve.