Recipe in:
One Dish Dinners
  (Stir-Fries and Skillet Dinners)
Chicken and Savoy Cabbage Skillet
Total time: 40 minutes
   Sauté it all briefly, put the lid on and let it cook: easy skillet dinner.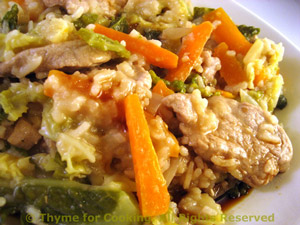 Ingredients:
2 chicken breasts, boneless, skinless
1/3 savoy cabbage, about 2 cups, sliced
1 onion
2 cloves garlic
1 tbs minced ginger
1 carrot
1/2 cup (3.3oz, 95gr) Basmati rice
1 1/4 (10oz, 300ml) cup chicken stock
2 tsp soy sauce
1 tbs olive oil
 Instructions:
Chop onion.
Mince garlic and ginger.
Cut carrot into matchsticks.
Remove outer, dark green leaves from cabbage.  Cut a slice off the cabbage, cut the slice into thirds, then slice thinly.
Cut chicken into bite-size pieces.
Heat oil in large skillet over medium-high heat.  Add onions, ginger, garlic, chicken and stir-fry 5 minutes.
Add rice, carrot, cabbage and stir-fry 5 minutes longer.
Add stock, soy sauce, reduce heat, cover and simmer for 20 - 25 minutes, (until rice is done) stirring occasionally to prevent sticking.
Serve from the skillet.