Chicken Breasts with Creamed Cabbage
Total time: 35 minutes
    A bit of crème fraiche or yogurt add a creamy taste to the cabbage.  I cut the chicken breasts in half for easier serving.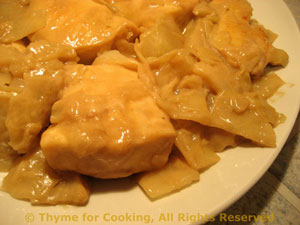 Ingredients:
2 chicken breasts, boneless, skinless
1 onion
1 1/2 cups shredded cabbage
1/2 cup (4oz, 120ml) chicken stock
1/3 cup (3oz, 90gr) Greek yogurt or sour cream
1/2 tsp paprika
1 tbs Balsamic vinegar
2 tsp olive oil
2 tsp cornstarch (maizena, corn flour) dissolved in 1 tbs chicken stock or water
 Instructions:
Chop onion. 
Shred cabbage by cutting slice off of head, lay the slice cut side down and cut into 4ths, then, cutting across, slice 1/8 inch thick.  Do not use the core of the cabbage - you'll recognize it when you see it.
Heat oil in large nonstick skillet.  Add onion, paprika and chicken breasts. 
Sauté until onion is tender and chicken is golden, about 10 minutes, turning the chicken once. 
Remove chicken breasts.  Add cabbage to skillet and stir-fry until wilted, about 5 minutes. 
Pour chicken stock over the top and lay the chicken breasts on the cabbage. 
Cover and bring to a boil.  Reduce heat and simmer for 20 minutes, until cabbage is tender. 
Uncover, increase heat. 
Remove chicken to small platter. 
Stir cornstarch mixture into cabbage to thicken.
 Stir in vinegar and yogurt.
Spoon around chicken and serve.