Chicken with Broccoli and Olives    
Total time: 30 minutes
     This is a colorful dish full of Mediterranean flavors: capers, olives, peppers, lemon and garlic.  It's made like a stir-fry, leaving the vegetables with a bit of crunch.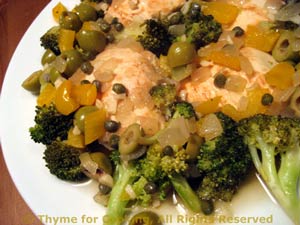 Ingredients:
2 chicken breasts, boneless, skinless
1/2 head of broccoli or one small head 
1 small yellow bell pepper
1 onion
2 cloves garlic
1/3 cup olives, black or green
1 tbs capers
1 tsp dried marjoram
3 tbs white wine or 3 tbs chicken stock plus 1 tsp lemon juice
1 tbs olive oil
 Instructions:
Slice onion about 1/8" thick (.3cm). 
Cut pepper in half the short way and then into slices, 1/4" thick  (.6cm). 
Mince garlic. 
Cut broccoli into bite size florets and stems. 
Cut chicken in half, the short way.
Heat oil in medium nonstick skillet.  Add onions, pepper, broccoli, and sauté 5 minutes. 
Add garlic and sauté another 2 minutes. 
Remove vegetables to a bowl or platter and cover. 
Add chicken to skillet and sauté 6 - 8 minutes per side, or until done. 
Pit olives if needed and cut in half. 
Return vegetables to skillet, add olives, capers, marjoram and wine or stock/lemon juice.  Stir to combine. 
Cover, reduce heat to low and simmer another 7 - 8 minutes to blend flavors. 
Arrange attractively on a small platter and serve.