Christmas Eve Dinner
Smoked Salmon with Traditional Garnish
Standing Rib Roast / Yorkshire Pudding, Horseradish Sauce
Asparagus with Butter and Thyme
Bûche de Noël recipe not included
Yorkshire Pudding
Total time: 45 minutes
     This a bit tricky with a small roast; it is supposed to be made with the fat from the roast but there may not be enough from a small roast. Here is how I manage: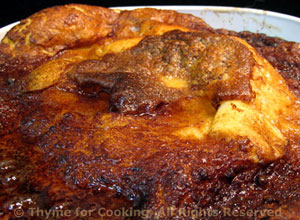 Ingredients:
1 cup (4.5oz, 135gr) flour
1 cup (8oz, 240ml) milk
2 eggs
1/4 tsp salt
2 tbs beef drippings or butter or combination
2 tbs beef stock
 Instructions:
In medium bowl whisk the eggs. 
Add the milk, flour and salt; whisk. 
Let rest 10 - 30 minutes. 
Put drippings/butter and stock in a baking dish.  I use a 10 inch (25cm) square. 
When beef is almost ready to come out, heat the baking dish in the 425F (215C) oven (the same as for roast) until butter is melted. 
Remove and pour in pudding batter. 
Immediately take beef out and put pudding in.  Oven door should not be opened while pudding bakes. 
Bake 20 minutes. 
Reduce heat to 375F (190C) and continue baking 12 - 15 minutes more, until golden and puffed up. 
Remove and serve immediately.