Cream of Pumpkin Soup
Roast Turkey with Balsamic Glaze
Sage, (Giblet) and Celery Stuffing
Sweet and White Pommes Anna
Ginger Cranberry Sauce
Ginger Cranberry Sauce
Total time: 30 minutes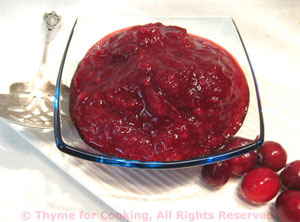 Ingredients:
3/4 cup (6oz, 180ml) apple juice
2/3 cup sugar
1 1/2 tbs minced fresh ginger, more or less
2 cups whole cranberries
 Instructions:
Heat juice, sugar and half of the ginger until sugar is dissolved. 
Add the whole cranberries and cook, simmering, just until most of them 'pop'. 
Remove and, with a potato masher, mash 2 or 3 times, no more. 
Add the rest of the ginger, stir well and cool. 
This will get very thick when cool and will keep for several weeks in the fridge.