Tomato and White Bean Soup
Veal Cutlets with Marsala and Parsley
Potatoes Braised with Olives and Shallots
Cauliflower with Parmesan Sauce
Veal with Parsley and Marsala
Total time: 30 minutes
         The tender veal scallops cook quickly and are finished with a silky wine sauce. If you can't get Marsala you can use Madeira, a sweet (cream) sherry, or any, slightly sweet fortified wine.  Chicken breasts, pounded thin, or turkey scallops would make good substitutes.  Both would need a bit more cooking. Unlike the traditional Veal Marsala, this has lots or parsley, no tomato and is not thickened.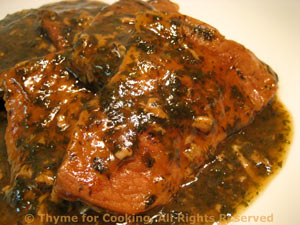 Ingredients:
12oz (360gr) veal cutlets, thinly sliced
1/2 cup Marsala, (4oz, 120ml)      

substitute Madeira, cream sherry

1/4 cup beef broth, (2oz, 60ml)   

substitute chicken or a 1/2 tsp beef base

1 tbs dried parsley

or 2 tbs fresh

1 tbs olive oil
 Instructions:
In large, nonstick skillet heat oil over medium high heat. 
Add veal and quickly brown on both sides, about one minute each. 
Remove to an oven proof serving platter.  Keep veal in a warm oven (125F, 75C) while finishing sauce. 
Add the Marsala, beef stock and parsley to the skillet and stir to scrape up any browned bits. 
Let sauce cook rapidly until reduced and thickened slightly, about 5 minutes.
 Pour sauce over veal and serve.