Veal Marengo
Total time: 90 minutes
     This can be cooked in the 90 minutes allotted or left to simmer for a couple of hours if that works into your schedule better.  You can serve it over gnocchi, pasta or egg noodles.  I'm using pasta. Unlike a lot of Italian sauces, this is very light on tomatoes, just enough for some flavor.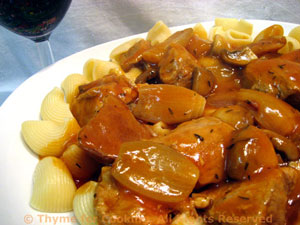 Ingredients:
16oz (480gr) veal, suitable for braising
1 tbs olive oil
2 tbs tomato paste
1 clove garlic
1/2 (4oz, 120ml) cup chicken stock
1 1/2 cup (12oz, 360ml) dry white wine
1 bouquet garni
1 tsp dried thyme
10 - 12 medium shallots
4oz (120gr) mushrooms
1 tbs butter
2 - 3 tbs cornstarch (maizena) dissolved in 3 tbs water
 Instructions:
Cut veal into 1 1/2 inch (4cm) cubes. 
Mince or crush garlic. 
In a deep, heavy pan heat the oil over medium-high heat.   Add the veal and brown on all sides.  
Add garlic, tomato paste, stock, wine, bouquet garni and thyme and bring to a boil.  
Cover and reduce heat to low.  Simmer for 45 minutes. 
Peel shallots. 
Clean mushrooms.  If mushrooms are large cut in half or quarters. 
Melt butter in a nonstick skillet over medium-high heat. 
Add shallots and sauté until starting to brown, about 5 minutes. 
Add mushrooms and sauté another 5 minutes, stirring often. 
After the veal has simmered for 45 minutes add the shallots and mushrooms and simmer another 30 minutes or until vegetables are done. 
With a slotted spoon remove the meat and vegetables to a serving dish.  Cover to keep warm. 
Turn the heat to medium-high under the sauce. 
Give the cornstarch mixture a stir and add to the sauce a little at a time until thickened to your liking. 
Spoon over the meat and vegetables and serve over gnocchi or pasta.