Spinach 'Caprese' Salad
Grilled Balsamic-Glazed Veal Chops
Basmati Rice and Asparagus Gratin
Grilled Balsamic-Glazed Veal Chops
Total time: 30 minutes
     Simplicity is often best.  A light glaze of Balsamic Vinegar gives these chops a bit of color and a hint of flavor.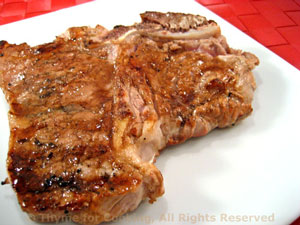 Ingredients:
2 veal chops, preferably center- cut and about 1" (2.5cm) thick
2 tbs Balsamic vinegar
2 tbs olive oil
 Instructions:
Mix olive oil and vinegar well with whisk. 
Spoon on both sides of chops and set aside for 10 - 20 minutes.
Grill chops on barbecue for 10 - 12 minutes
depending on how thick and how done you want them or broil 12 - 15 minutes.  Take a peak to see how done they are. 
Remove from grill and serve.