Steak with Shallot and Red Wine Reduction
Total time: 30 minutes
    Tenderloin slices would be lovely with this - as would strip steaks or even London Broil!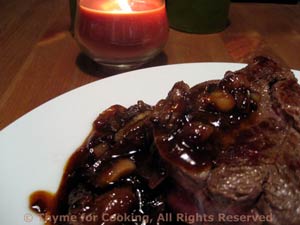 Ingredients:
2 steaks, 6oz (180gr) each
3 large shallots
1 tbs olive oil
1 tbs brown sugar
1 tbs Balsamic vinegar
1/2 cup (4oz, 120ml) red wine
 Instructions:
Peel and thickly slice shallots.
Heat oil in a nonstick skillet over medium-low heat. 
Add shallots and sauté until starting to brown and caramelize, about 15 minutes.
 Remove shallots to a plate and cover to keep warm.
Increase heat to medium-high and add steak. 
Quickly cook steaks for 2 - 4 minutes per side depending on type and thickness. 
When done, remove and cover to keep warm.
Add red wine to pan and scrape up all the yummy brown bits on the bottom. 
Add the shallots, sugar and vinegar. Cook, stirring over high heat, until sauce is reduced and starting to thicken, 3 - 4 minutes.
Spoon a bit over the each steak and serve.