Artichokes with Creamy Dipping Sauce
Steak with Golden Onions
Parsley New Potatoes
Asparagus with Lemon Parsley Vinaigrette
Pan-Seared Steaks with Golden Onions
Total time: 30 minutes
     Depending on the cut of meat you use, you can either serve this whole, on each plate or thinly sliced on the bias and served from a platter (a flank steak or skirt steak is best sliced).  Garnish with onions.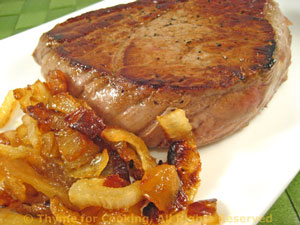 Ingredients:
1 - 2 steaks, 12oz (360gr) total weight
1 onion
1 tbs white Balsamic vinegar
2 tsp Dijon-style mustard
1 tbs olive oil
 Instructions:
Peel and slice onion. 
Heat oil in nonstick skillet over medium-low heat. 
Add onion and sauté until starting to brown, about 15 min

u

tes. 
Stir in vinegar, mustard and heat through. 
Remove onions to a plate and cover to keep warm. 
Increase heat to medium-high and add steak. 
Quickly cook steaks for 2 - 4 minutes per side depending on type, thickness and personal preference. 
Serve steaks, sliced or not, with onions on the side.