Osso Bucco
Total time: 90 minutes
    Braised Veal Shanks, another Italian classic with many variations:  some have a light, lemon sauce; some a heavy tomato.  This is a light vegetable....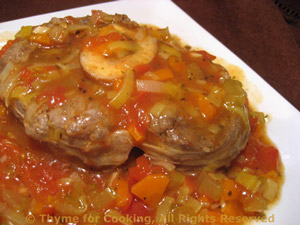 Ingredients:
2 - 4 nice size veal shanks 

enough for 2,  I had 3

1 medium leek,  1 cup chopped
1 medium carrot, 3/4 cup chopped
1 rib celery, 3/4 cup chopped
2 cloves garlic
1 tbs olive oil
3/4 cup (6oz, 180ml) white wine
1/2 cup (4oz, 120ml) beef broth
2 cups (15oz, 450gr) chopped tomatoes
1/2 tsp dried rosemary
1 tsp dried sage
1 tbs cornstarch (maizena) dissolved in 2 tbs water
 Instructions:
Trim and wash the leek,  Roughly chop. 
Finely chop the carrot and celery. 
Mince the garlic.
Heat the oil in a heavy Dutch oven or deep skillet.  Add the leek, carrot, celery, garlic and sauté until tender, about 5 minutes. 
Move vegetables to the side.  Add veal and brown on both sides, about 7 minutes total. 
Add wine, broth, tomatoes and herbs.  Cover, reduce heat  and simmer for 60 minutes

(or longer). 

When ready to serve: 
Remove veal and cover to keep warm. 
Dissolve cornstarch in water. 
Turn the heat to medium-high under the sauce. 
Stir in the cornstarch mixture until sauce is thickened and no longer cloudy.  Spoon sauce over the veal shanks and serve.