Meat Loaf Florentine 
Total time: 80 minutes
     While this meat loaf is chock-a-block with vegetables it still retains the 'proper' meat loaf taste and texture.  We'll eat it for 2 meals - and there may be enough for a couple of great sandwiches as well. I actually used about 19oz (540gr) in this because I had some bits in the freezer to use up.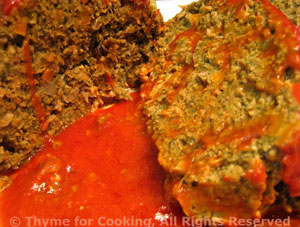 Ingredients:
16oz (480gr) ground beef (mince)

or beef and sausage mixed or turkey

1 medium onion, 

about 1/2 cup finely chopped

2oz (60gr) mushrooms 

about 3/4 cup finely chopped

1 carrot, 

about 1/3 cup finely chopped

1 - 2 ribs celery, 

about 1/3 cup finely chopped

2 cloves garlic
8oz (240gr) frozen spinach
1 tbs olive oil
2 eggs
1/2 cup bread crumbs
1/2 cup (4oz, 120ml) red wine or beef stock
1/4 cup (2oz, 60ml) ketchup
1 tsp dried thyme
1 tsp dried basil
2 tsp parsley
1 cup (8oz, 240ml) tomato sauce
 Instructions: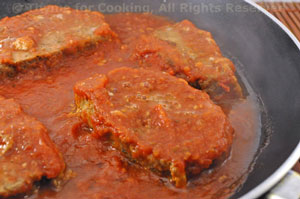 And the leftovers?  Sandwiches, of course....
Or just warm up in the leftover tomato sauce.