Meatballs
with Osso Bucco Sauce
Total time: 30 minutes
   I added a a cup of chopped tomatoes to the leftover sauce, and cooked the meatballs in the simmering sauce.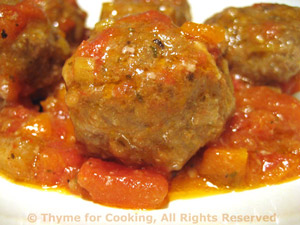 Ingredients:
12oz (360gr) ground beef
1/2 onion 
1/4 cup breadcrumbs
1/4 cup red wine
1 egg
1 tbs ketchup
1 tbs Dijon-style mustard
1/2 tsp garlic powder
1 tsp paprika
1 tsp dried oregano
1 tsp dried sage
1 cup leftover Osso Bucco sauce   

substitute tomato sauce

1 cup chopped tomatoes
 Instructions:
Mince onion. 
In medium bowl lightly beat the egg with a fork. 
Add breadcrumbs, wine, mustard, ketchup, paprika, garlic, herbs and mix well. 
Add beef and mix well, (use your hands and knead like bread dough).  
Form into meatballs, about 1 1/2 " (4cm) in diameter. 
In a medium skillet with lid heat the sauce and tomatoes. 
When simmering add the meatballs, being careful that they don't touch. 
Cover and continue to simmer until  meatballs are done, stirring and turning the meatballs once or twice, about 15 minutes.  
Remove and serve.