Recipe in:
One Dish Dinners
  (Stir-Fries and Skillet Dinners)
Stir-Fried Beef with Zucchini (Courgette)
Total time: 25 minutes
     Late summer stir-fry with the never-ending zucchini and cherry tomatoes.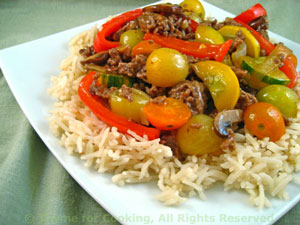 Ingredients:
8oz ground beef (240gr mince)
1 medium zucchini, 7oz (210gr)
1 onion
2 cloves garlic
1 tbs fresh ginger
1/2 red bell pepper
3oz (90gr) cherry tomatoes 
1/2 (4oz, 120ml) cup beef stock
2 tbs sherry
1 tbs soy sauce
1 tsp olive oil
2 tsp walnut or sesame oil
1 tbs cornstarch (or thickener of choice) dissolved in 2 tbs water
Basmati Rice:
1/2 cup (3.3oz, 95gr) Basmati rice
1 cup (8oz, 240ml) beef stock
 Instructions:
Cut zucchini in half the long way, then each half in thin slices.
Slice onion.
Mince garlic and ginger.
Cut pepper into slices. 
Cut cherry tomatoes in half.
In large nonstick skillet heat oils over medium-high heat. 
Add onion, pepper and stir-fry 5 minutes.
Add garlic, ginger, zucchini and stir-fry 5 minutes longer. Remove to a plate.
Add beef to skillet and sauté, breaking it up as it browns. 
When beef is browned, return vegetables to skillet and add stock, sherry and soy sauce.
 Cover, reduce heat to medium-low and let simmer 5 minutes.
Dissolve cornstarch in water. 
Turn the heat up under the skillet and add the cornstarch mixture, stirring constantly until thickened.
Add cherry tomatoes, heat through.  
Spoon over Basmati Rice and serve.

Basmati Rice

: 
Cook rice according to package instructions. Fluff and serve.