Recipe in:
One Dish Dinners
  (Stir-Fries and Skillet Dinners)
Stir-Fried Ground Beef and Vegetables
Total time: 30 minutes
    You could substitute thinly sliced flank steak or beef pre-cut for stir-fry if you prefer.  Any bits of vegetable left in the fridge would be fine in this: sliced Brussels sprouts, broccoli, whatever.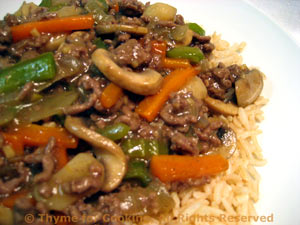 Ingredients:
 Instructions:
Mince garlic
Chop onion and pepper. 
Clean and slice mushrooms. 
Slice celery at an angle into 1/8 inch slices. 
Cut carrot into matchsticks. 
Drain and slice water chestnuts. 
Peel and chop ginger. 
In large non-stick skillet heat oils over medium-high heat. 
Add onion, celery, pepper and carrots and stir-fry 5 minutes. 
Add mushrooms, garlic and ginger and stir-fry 3 minutes more. 
Add beef and sauté breaking it up as it browns. 
When beef is brown add chestnuts, tomato paste and stock. 
Cover, reduce heat to medium-low and let simmer 5 minutes. 
Give the cornstarch mixture a stir to recombine.  Turn the heat up under the skillet and add the cornstarch mixture, stirring constantly until thickened.  Serve over rice.
Rice 
Cook rice according to package instructions adding the oregano with the stock
Fluff and serve.