Spinach Burgers with Mushroom Sauce
Total time: 30 minutes
     Don't let the greenish tinge to these burgers put you off.  They fry up to a lovely dark, proper burger color, they taste fantastic and you get a healthy dose of vegetables almost without noticing!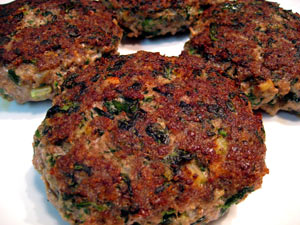 Ingredients:
1 large onion
2 cloves garlic
2 ribs celery
4oz (120gr) mushrooms
1 egg
12oz ground beef (360gr mince)
1/2 cup chopped, cooked spinach - or frozen, thawed, & squeezed dry - about 8oz, (240gr)
3/4 cup (6oz, 180ml) red wine - 2 tbs for the patties, 2 tbs for the cornstarch and the rest for the sauce
1/2 cup bread crumbs
1 tsp dried thyme
1 cup (8oz, 240ml) beef broth
2 tbs tomato paste
1 1/2 tbs cornstarch (corn flour, maizena)
2 tbs olive oil
 Instructions:
The vegetables:

In large non-stick skillet over medium heat sauté half of onions, celery, garlic and mushrooms about 5 minutes or until tender.
Remove from heat and set aside.

The spinach: 

If using fresh: roughly chop and add to the skillet for the last minute or until wilted.
If using frozen: thaw spinach and squeeze out all liquid.

The burgers: 

In a large bowl lightly beat the egg.
Add bread crumbs, 2 tbs of red wine and thyme.
Mix well, then add the beef, spinach and sautéed onion mixture.
Mix well - hands work best, and form into 4 patties.
Heat remaining 1 tbs of oil in the same skillet, add patties and sauté about 5 minutes per side.
Remove, put on oven-proof plate or platter and put in 250F (125C) oven to keep warm while you finish sauce. 

The sauce:

Add remaining onions, celery, garlic and mushrooms to skillet and sauté about 5 minutes or until tender. 
Add 1/2 cup red wine, beef stock and tomato paste to pan and bring to a boil.
Dissolve cornstarch in remaining 2 tbs of red wine (or water) and add to sauce, stirring constantly until thickened. 
Remove patties from oven, pour some of the sauce over and serve with remaining sauce on the side.