Grilled Burgers with Onion and Pepper
Couscous, Spinach and Green Bean Salad
Grilled Burgers with Onion and Pepper  
Total time: 30 minutes
    A bit of finely chopped pepper and onion adds depth of flavor to these burgers.  Serve them smothered with more peppers and onions and some sharp, pungent mustard... With or without a bun!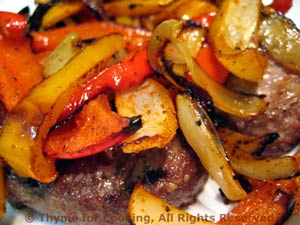 Ingredients:
For Burgers:
12oz (360gr) ground beef
2 tsp paprika
1 tsp garlic powder
2 tsp olive oil
1/8 orange, red or yellow bell pepper,  about 1/4 cup
1/8 onion, about 1/4 cup
1 tsp Worcestershire sauce
2 tsp ketchup
For Peppers and Onions:
1/2 red bell pepper
1/2 orange or yellow bell pepper     

less the 1/4 cup for the burger

1 large or 2 small onions 

less the 1/4 cup for the burger

1 tbs oil
2 tsp Worcestershire sauce
1 tsp paprika
 Instructions:
Finely chop onion and pepper. 
Heat oil in a small skillet over medium heat. 
Add paprika and garlic powder and sauté 1 minute stirring constantly. 
Add pepper and onion and sauté until onion is transparent. 
Put peppers and onions in a large bowl. 
Add Worcestershire sauce, ketchup and beef to peppers/onions. 
Mix well and shape into 4 patties.   
Cook in an oiled grill basket or mat on the barbecue grill for 4 - 6 minutes per side, depending on how you like them done. 

OR

sauté in skillet for the same amount of time, until done to your liking. 
For Peppers and Onions:
Slice peppers (cut in half from bottom toward stem, discard seed and core) into large slices - 1/2 inch wide (1.25cm).  Slice onion into 1/2" (1.25 cm) thick slices. 
Put olive oil, paprika and Worcestershire in large bowl, add vegetables and toss well to coat.  
Put on a mesh grill pan (the idea is not to have the stuff fall through the grate into the fire....) and cook on the barbecue grill.  

OR 

sauté in nonstick skillet until tender and starting to brown. Either way they will take 10 - 15 minutes.