Beef Braised in Beer with Caramelized Onions 
Total time: 90 minutes
     I cooked the beef for 90 minutes and it was meltingly tender.  I used sirloin, but you can use a cheaper, tougher cut and braise a bit longer if you want, another 30 minutes. The beer does an excellent job of tenderizing. This is a traditional dish from Flanders.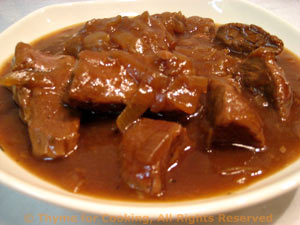 Ingredients:
24oz (720gr) beef suitable for stewing or braising
1 bouquet garni
16oz (480ml) beer, dark preferably
1 tbs Dijon-style mustard
2 - 3 tbs cornstarch (maizena) dissolved in 4 tbs water or beef stock
2 onions
2 tsp olive oil
2 tsp butter
1 tbs brown sugar
2 tbs red wine vinegar
 Instructions:
The beef: 
Cut beef into 2" (5 cm) cubes. 
Heat oil in a heavy pot or Dutch oven with tight-fitting lid.  Add beef and brown on all sides, about 10 minutes. 
Add half of the beer and stir.  The beer has a tendency to foam up so mind it carefully for about 5 minutes. 
When it seems to have settled down, add the rest of the beer. 
After it settles down again, add bouquet garni and mustard. 
Cover, reduce heat and simmer for 75 minutes.  (or longer)
The onions: 
Slice onions. 
Heat oil and butter in a large, nonstick skillet over medium-high heat.  Add onions, reduce heat to medium and cook until tender and starting to brown, about 20 minutes. 
Add brown sugar and cook another 5 minutes, until caramelized. 
Add vinegar and cook until almost completely evaporated. 
When done add to beef and stir to combine.
To finish:
Dissolve cornstarch in water. 
Remove beef. 
Increase heat under sauce and add half of the cornstarch, stirring until thickened.  Add more cornstarch if you like a thicker sauce.  Pour some of the sauce over the beef, serve the rest on the side. 
Note: In Flanders this would be served with Fried Potatoes.