Main Course Menu Plan: Week 6 
Fall II
Day 1:

Shrimp (Prawns) in Garlic Butter over Pasta

Total time: 25 minutes
      This is a variation on Scampi, Shrimp in Garlic Butter. The lemon juice and white wine extend the sauce without using quite so much butter and the Prosciutto is a sweet/salty counterpoint to the shrimp, balancing the flavors nicely. Sprinkle with fresh Parmesan or not...  You can use frozen, raw shrimp or pre-cooked for this.
 Ingredients:
 Instructions:
Cook pasta according to package directions, just until al dente.
While it cooks:  Clean shrimp if they need it.  
Mince garlic and finely chop shallots. 
Roughly chop Prosciutto.
Grate Parmesan. 
Snip parsley if using fresh.
Heat butter and oil in a nonstick skillet over medium heat.  Add shallots, garlic and sauté over medium heat, stirring frequently, 5 - 7 minutes.  Be careful not to let the garlic brown.
Add ham and sauté 5 minutes longer, just until starting to get crisp.
Stir in paprika.
Add shrimp and sauté until cooked through (they'll turn opaque and curl).
Add lemon juice, white wine and parsley; heat through. 
Add pasta and heat through, stirring. 
Spoon into a serving dish, sprinkle with Parmesan and serve.
Note: the photo was taken before I added the cheese - the shrimp and ham showed up better.....
Day 2:

Boeuf Bourguignon

Total time: 3 hours 30 minutes       Earlier in the day: 5 minutes, Afternoon: 15 minutes,  Simmering time: 3 hours
   I finally discovered the secret to the rich, unctuous red wine sauces in Boeuf Bourguignon and Coq au Vin: cocoa.  This will make enough for 2 meals.  The original version calls for pearl onions but I normally have to buy a huge bag to get the few I want so I use shallots..  plus I like the taste better.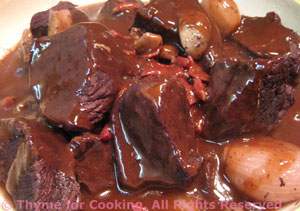 Ingredients:
24oz (720gr) beef, suitable for braising or stewing
1 bouquet garni  

you can buy these ready made in little sachets in the spice section

1 bottle (750ml) robust red wine  

preferably a Burgundy

1 tbs red wine vinegar
1 carrot
4 cloves garlic
1 tbs olive oil
3 - 4 strips bacon, 3oz (100gr)
8 - 10 shallots 
4oz (120gr) mushrooms
1 tbs cocoa  

pure cocoa powder, nothing added

3 tbs cornstarch (maizena) dissolved in 3 tbs water
 Instructions:
Earlier in the day:
Trim beef and cut into 2 inch (5 cm) cubes.  Put into a small, deep bowl or sauce pan. 
Peel the carrot and cut in thirds. 
Peel the garlic. 
Add the carrot, garlic and bouquet garni to the beef. 
Add the red wine and the vinegar, cover and refrigerate for at least 4 hours or overnight. 
Late afternoon/Early evening: 
Take the meat out of the marinade and let it drain, reserving all of the marinade.  
Heat oil in small stock pot or Dutch Oven.  Add beef and brown on all sides, about 10 minutes. 
Pour the reserved marinade over the beef, along with the carrot, garlic and bouquet garni.  Cover and bring to a boil. 
Reduce heat and let simmer for at least 3 hours.
50 minutes before it's done: 
Clean mushrooms and shallots. 
Cut mushrooms in half or quarters if large. 
In nonstick skillet sauté bacon until crisp.  Remove and crumble (don't eat!) 
Add mushrooms and shallots to skillet and sauté over medium heat until nicely browned, about 10 minutes.  
Add mushrooms, shallots and bacon to beef.  Simmer for 30 minutes.  
Finishing:
With slotted spoon take everything out of the sauce (don't worry about the bacon) and put on a small platter. 
Discard bouquet garni and carrot.  
Keep warm in the oven while you finish the sauce. 
Bring sauce to a boil over medium - high heat.  Whisk in cocoa and let reduce for 5 minutes. 
Slowly whisk in cornstarch mixture to thicken.  You probably won't need all of it so stop periodically and let it cook to test consistency.  It clears as it cooks and thickens. 
Spoon some sauce over the beef, shallots and mushrooms and serve, remaining sauce on the side.
Day 3:

 Chicken Vegetable Barley Soup

Total time: 120 minutes
    You can use a whole fryer or any chicken parts to make stock.   If you use a whole chicken you should have stock left to freeze for other uses. The barley that I get is (I think) partially pre-cooked so it cooks in about 20 minutes. Regular pearl barley takes about 45 minutes.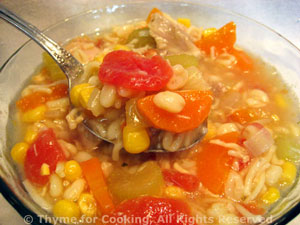 Ingredients: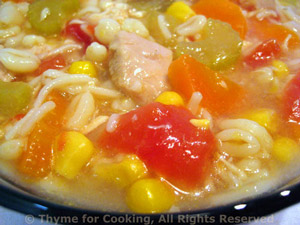 Instructions:
The stock:
Cut the vegetables into large chunks.  If you are using celery tops, use them all, including the leaves. 
Put chicken, vegetables, herbs and water in soup pot or Dutch oven. 
Cover, bring to a boil, reduce heat and simmer for an hour if using breasts, 2 or 3 hours if using a whole chicken.
When done, strain stock, discarding vegetables and reserving chicken. 
If time allows, chill stock and remove fat.
Refrigerate chicken if not making soup immediately.
The soup:
Bring stock to a boil over medium heat. 
Cut carrots in half, the long way then thinly slice. 1/8" (3 cm).  Add to stock. 
Thinly slice celery, add to stock. 
Chop onion, add to stock. 
Open and drain sweet corn and add to stock. 
Add barley to stock. 
Cover and simmer - may need to reduce heat a bit.  Let simmer for 30 minutes. 
Open tomatoes and drain.  Chop tomatoes and add to soup. 
Add chicken to soup.  Cover and simmer 15 minutes longer. 

Now:

  Too thick?  Add more stock.  Too thin?  Add 1/3 cup vermicelli  (cooks fast and thickens nicely). Serve.
Day 4:

 Braised Beef and Mushroom Pasta

Total time: 25 minutes
     Sautéed mushrooms and onions round out the leftover braised beef for a simple pasta dish.  If you don't have enough sauce left you can add some beef stock or red wine and thicken with a bit of cornstarch.
 Ingredients:
leftover braised beef 
leftover sauce, about 1 cup
1 onion
4oz (120gr) mushrooms, wild or cultivated
1 tbs olive oil
1 1/4 cup bite-size pasta 

penne, curly macaroni
 Instructions:
Cook pasta according to package directions.  When done, drain.
Clean and slice mushrooms. 
Thinly slice onions. 
Heat oil in medium nonstick skillet.  Add onions and sauté until tender, about 10 minutes. 
Add mushrooms and sauté until lightly browned, 10 minutes longer. 
Cut the beef into smaller chunks.  Add beef, sauce to skillet and heat through. 
When pasta is done, add to skillet and stir well to combine.   Serve.
Day 5:

 Pork Chops with Tomatoes and Sage

Total time: 25 minutes
     Sage not only goes well with turkey but it's great with pork and most fall vegetables.  Use fresh if you can get it, if not, at least try not to use some that has been in the cabinet for years ;-)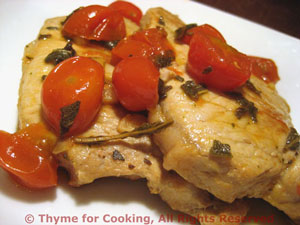 Ingredients:
 Instructions:
Finely chop garlic and roughly chop tomato.
In medium nonstick skillet heat oil over medium-high heat. 
Sauté pork chops until lightly browned, about 3 minutes per side.  Remove and set aside. 
Add garlic and sage to pan and sauté 1 minute. 
Add wine, stock and tomato.  Bring to a boil, reduce the heat to low and simmer about 5 minutes until mixture starts to thicken.  
Return pork chops to pan, turning once to coat with sauce, and cover.  Let simmer 5 - 10 minutes until done. 
Arrange chops on small platter or plate, pour sauce over and serve.
Day 6:

 Turkey Cutlets with Mustard Crust

Total time: 30 minutes
  The mustard - crumb crust keeps these nice and moist and gets deliciously crispy fried in just a bit of olive oil.  You can use chicken breasts in place of turkey, but they will need an extra 10 minutes of cooking time.... unless you pound them thin first.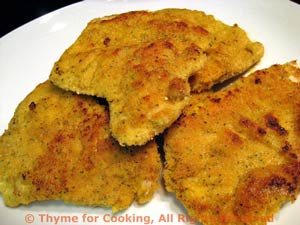 Ingredients:
2  - 3 turkey cutlets, about 12oz (360gr)
1 egg
2 tbs Dijon-style mustard
1/3 cup bread crumbs
1/2 tsp dried parsley
1/2 tsp dried basil
1/2 tsp garlic powder
1/3 cup Parmesan cheese
4 tsp olive oil
 Instructions:
If the turkey cutlets are very large (mine are) cut them in half for easier handling. 
In a bowl flat enough that you can lay the cutlets flat (or a small pie plate, or whatever works) lightly beat the egg with a fork.  Add the mustard and beat until well combined. 
In another, similar bowl combine the bread crumbs, Parmesan, herbs and garlic powder.
Using tongs or fingers, dip cutlets in the egg/mustard mixture, then in the crumb/cheese mixture, coating well. 
Lay out on wax or parchment paper and let rest for 5 - 10 minutes.
Heat 2 tsp oil in nonstick skillet large enough to hold all of the cutlets (or do it in two batches and keep them warm in 250F (125C) oven). 
When pan is hot (medium-high heat) add cutlets and sauté 5 - 6 minutes, until nicely brown. 
Add remaining 2 tsp oil to skillet and turn cutlets. 
Sauté on other side for another 4 - 5 minutes, until nicely browned and done.  Remove and serve.