Main Course Menu Plan: Week 8 
Fall II
Day 1:

Seared Scallops with Browned Shallots

Total time: 30 minutes
    Use the larger sea scallops for this if you can..... And let the shallots get very crispy. Scallops are best when cooked quickly over fairly high heat.  Overcooking tends to make them tough.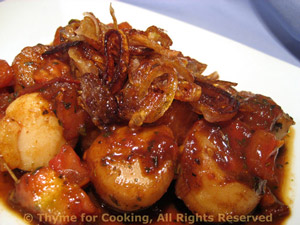 Ingredients:
10oz (300gr) large scallops
3 shallots
2 tsp olive oil
1 tomato
1 tbs Balsamic vinegar
2 tsp soy sauce
1 tsp basil
1/2 tsp paprika
 Instructions:
Day 2:

Osso Bucco

Total time: 90 minutes
    Braised Veal Shanks, another Italian classic with many variations:  some have a light, lemon sauce; some a heavy tomato.  This is a light vegetable....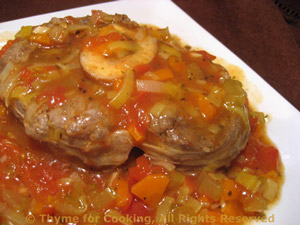 Ingredients:
2 - 4 nice size veal shanks 

enough for 2,  I had 3

1 medium leek,  1 cup chopped
1 medium carrot, 3/4 cup chopped
1 rib celery, 3/4 cup chopped
2 cloves garlic
1 tbs olive oil
3/4 cup (6oz, 180ml) white wine
1/2 cup (4oz, 120ml) beef broth
2 cups (15oz, 450gr) chopped tomatoes
1/2 tsp dried rosemary
1 tsp dried sage
1 tbs cornstarch (maizena) dissolved in 2 tbs water
 Instructions:
Trim and wash the leek,  Roughly chop. 
Finely chop the carrot and celery. 
Mince the garlic.
Heat the oil in a heavy Dutch oven or deep skillet.  Add the leek, carrot, celery, garlic and sauté until tender, about 5 minutes. 
Move vegetables to the side.  Add veal and brown on both sides, about 7 minutes total. 
Add wine, broth, tomatoes and herbs.  Cover, reduce heat  and simmer for 60 minutes

(or longer). 

When ready to serve: 
Remove veal and cover to keep warm. 
Dissolve cornstarch in water. 
Turn the heat to medium-high under the sauce. 
Stir in the cornstarch mixture until sauce is thickened and no longer cloudy.  Spoon sauce over the veal shanks and serve.
Day 3:

 Tuna and Goat Cheese Lasagne

Total time: 50 minutes
     This is a simple lasagne, using no cooked ingredients.  Because there is no hot sauce to start, I increased the baking time by 10 minutes.  I puréed whole tomatoes rather than using prepared sauce.... It has a fresher taste.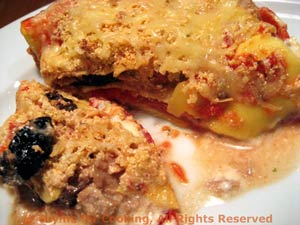 Ingredients:
 Instructions:
Open and drain tuna.  Put it into a bowl or on a plate and flake with a fork. 
Open and drain pimiento, slice or chop if whole.
Purée the tomatoes, with all juices, in a blender. 
Add the herbs, garlic and wine, mixing well. 
Put the egg in a medium bowl and whisk lightly.
Add the goat cheese and milk and whisk well to combine.
Pit the olives if needed and roughly chop.
Shred and/or grate the cheeses
Now you are ready to assemble:
In a 10" (25cm) square baking dish, or so... make the following layers
1/3 tomato sauce
3 - 5 noodles   breaking to fit as needed
1/2 goat cheese sauce
all of shredded cheese
3 - 5 noodles
1/3 tomato sauce
all of the pimiento
all of the tuna
3 - 5 noodles
1/2 goat cheese sauce
all of the olives
3 - 5 noodles
1/3 tomato sauce
sprinkle with Parmesan cheese
Cover and bake 400F (200C) for 25 - 30 minutes, or until noodles are done.  Test in center with a sharp knife. 
When noodles are tender, uncover and bake 5 minutes longer to brown cheese. 
Remove and let rest for 5 minutes. 
Cut into squares (or oblongs) and serve.
Day 4:

 Meatballs

with Osso Bucco Sauce

 

Total time: 30 minutes
   I added a a cup of chopped tomatoes to the leftover sauce, and cooked the meatballs in the simmering sauce.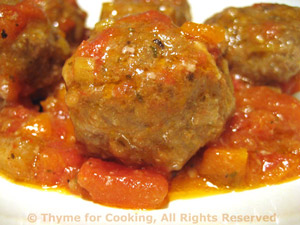 Ingredients:
12oz (360gr) ground beef
1/2 onion 
1/4 cup breadcrumbs
1/4 cup red wine
1 egg
1 tbs ketchup
1 tbs Dijon-style mustard
1/2 tsp garlic powder
1 tsp paprika
1 tsp dried oregano
1 tsp dried sage
1 cup leftover Osso Bucco sauce   

substitute tomato sauce

1 cup chopped tomatoes
 Instructions:
Mince onion. 
In medium bowl lightly beat the egg with a fork. 
Add breadcrumbs, wine, mustard, ketchup, paprika, garlic, herbs and mix well. 
Add beef and mix well, (use your hands and knead like bread dough).  
Form into meatballs, about 1 1/2 " (4cm) in diameter. 
In a medium skillet with lid heat the sauce and tomatoes. 
When simmering add the meatballs, being careful that they don't touch. 
Cover and continue to simmer until  meatballs are done, stirring and turning the meatballs once or twice, about 15 minutes.  
Remove and serve. 
Day 5:

 Pork Chops with Ginger Caper Sauce

Total time: 30 minutes
   Fry the chops, then kept warm while the sauce is quickly made. Remember, slightly pink pork is okay, and keeps it tender and moist. You need Greek yogurt, crème fraiche or sour cream for this.  Regular yogurt will not give a nice, thick sauce.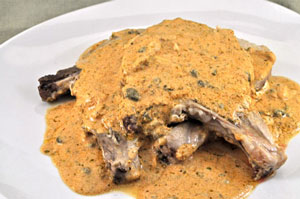 Ingredients:
2 - 4 pork chops, depending on size
1 tbs olive oil
2 cloves garlic
1 tbs tomato paste
1 tbs capers
2 tsp minced, fresh ginger
1 tsp Worcestershire
1 tsp Dijon-style mustard
1 tsp dried oregano
1/3 cup (3oz, 90ml) chicken broth
1/2 cup (4oz, 120gr) Greek Yogurt or sour cream
 Instructions:
Mince garlic.
Peel a small section of ginger,  cut into thin slices, then mince. 
In a small bowl mix ginger, tomato paste, capers, Worcestershire, mustard, oregano and yogurt.  Set aside.
In medium nonstick skillet heat oil over medium heat.  Add pork chops and sauté until well browned and cooked (almost) through, 7 - 8 minutes per side. 
Remove chops to a small platter or plate and cover to keep warm. 
Add garlic to skillet and sauté briefly. 
Add chicken stock and cook, scraping up the browned bits from the bottom of the skillet. 
When simmering nicely add yogurt mixture, stirring well with a wooden spoon and simmering until thickened.
When sauce is hot and thick, pour over chops and serve.
Day 6:

 Chicken Breasts with Tarragon Mustard Sauce  

Total time: 20 minutes
     Tarragon is a great herb for chicken, and a classic pairing in French cuisine.  The chicken is quickly pan-fried, then finished with a light tarragon sauce, with white wine and mustard.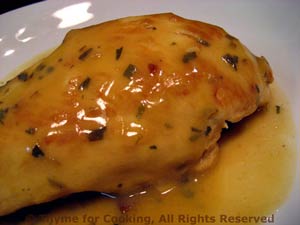 Ingredients:
2 chicken breasts, boneless, skinless
1 tbs dried chives
2 tsp dried tarragon
1 tbs Dijon mustard
1/4 cup (2oz, 60ml) white wine
1/4 cup (2oz, 60ml) chicken stock
1 tbs olive oil
 Instructions:
Heat oil in medium nonstick skillet over medium-high heat. 
Add chicken and brown well on both sides, about 10 minutes total. 
Reduce heat to medium-low, cover and let finish cooking, another 5 - 10 minutes.  Chicken is done when juices are clear when a sharp knife is inserted in the center. 
Remove chicken and cover with the pan lid or foil to keep warm. 
Increase heat under skillet to medium-high and add the herbs, mustard, white wine and chicken stock. 
Stir to loosen any brown bits, combine thoroughly and reduce a bit. 
Pour over chicken and serve.