Main Course Menu Plan: Week 7 
Fall II
Day 1:

Baked Salmon with Lemon Mayonnaise

Total time: 20 minutes
    A light coating of mayonnaise, thinned with lemon and olive oil, keeps the salmon filets, moist.  It gets a lovely golden color while baking and infuses the salmon with a fresh lemon flavor.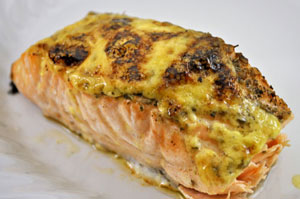 Ingredients:
2 salmon fillets or steaks, steaks, 6oz each (180gr each)
3 tbs mayonnaise
1 tbs lemon juice
1 tbs olive oil
Olive oil for coating pan
 Instructions:
Whisk together the mayonnaise, lemon and oil. 
Put salmon on a lightly oiled baking sheet.
Divide lemon mayonnaise evenly and spread over salmon. 
Bake at 400 F for 12 - 15 minutes, until top is light brown and fish flakes easily.   Serve.
Note:  For easy clean up cover pan with foil first.  This is especially nice if you are using fillets with the skin on.  You can carefully lift the salmon off the skin to serve, leaving the skin on the foil.  Then wrap the whole mess up and toss. 
Day 2:

Braised Pork Loin with Apples and Onions

Total time: 1 hour 45 minutes
    Apples are traditional with pork, and the flavors, obviously, work well.  Calvados is apple brandy but regular brandy or white wine will work.  We use a bit of apple juice during the winter so, I buy a 6-pack of small juices to have on hand.  Each one is about 8oz.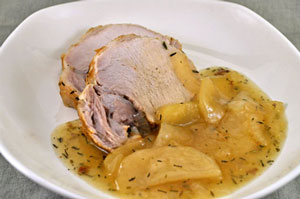 Ingredients:
1 pork loin roast, 24oz (720gr)
1 large onion, sliced 

or 2 small

1 large cooking apple   

Golden Delicious

1/4 cup (2oz, 60ml) Calvados, brandy or white wine
1/2 cup (4oz, 120ml) apple juice
1/2 cup (4oz, 120ml) chicken stock
1/2 tsp thyme
1/2 tsp rosemary
1 tbs olive oil
1 tbs cornstarch (corn flour, maizena) dissolved in 2 tbs apple juice
 Instructions:
In heavy pot or oven with tight-fitting lid, brown pork in olive oil for about 10 minutes. 
After turning pork, add sliced onions around the side. 
Add Calvados, juice, stock and herbs, turn heat to low, cover and braise for 45 minutes. 
Peel apple, cut into quarters and cut out core.  Cut each quarter into 3 or 4 slices and add to onions. 
Cover pork and cook for 30 - 40 minutes longer or until done.  Pork is done at an internal temperature of 145F (62C).  If you don't have a thermometer, cut a slit in the center and look, slightly pink is okay.  
Remove pork, onions and apples to a platter, cover to keep warm.  
Turn heat up under pot, dissolve cornstarch in juice and stir into pan to thicken. 
Slice pork and serve, sauce on the side. 
Day 3:

 Sausage, Pepper and Fennel Risotto

Total time: 30 minutes
    I used chicken sausages for this - but use any flavor you like, turkey, pork, spicy or not.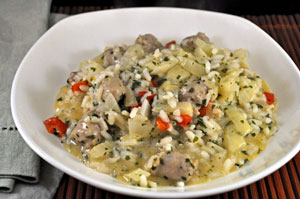 Ingredients:
2/3 cup (4.2oz, 125gr) Arborio rice

(or other rice specifically for risotto - Carnaroli or Vialone Nano)

1/2 cup (4oz, 120ml) dry, white wine
2 1/4 cups (18oz, 540ml) chicken stock

may not all be used

1/2 onion

other half for the condimenti

1 tbs butter
1/2 cup Parmesan cheese - freshly grated  (about 2oz, 60gr)
Condimenti:

6oz (180gr) sausages, any flavor, hot or not  

1 medium fennel bulb
1/2 onion
1 clove garlic
1 small orange or red bell pepper  
1 tbs parsley
 Instructions:
Heat chicken stock and keep hot over low heat. 
Finely chop onion. 
In medium saucepan heat butter over medium heat.  Add onion and sauté until transparent. 
Add rice and sauté stirring, for 2 - 3 minutes until rice has white center. 
Add white wine and stir. 
Start condimenti. 
When wine is almost absorbed add a 1/3 cup of stock, stir.  
When stock is almost absorbed add another 1/3 cup and continue adding 1/3 cup at a time and stirring. 
Before the last 1/3 cup taste a few kernels of rice.  They should be just 'al dente' - slightly resistant to the tooth but fully cooked.  If more stock is needed add it 1/6 cup at a time and waiting until almost completely absorbed. 
At this point risotto will be thick but not stiff - there will still be visible liquid and it will not hold its shape on a plate. 
Stir in the Parmesan and condimenti, pour into a bowl or risotto platter and serve immediately.  It will continue to absorb liquid and the leftovers (if any) will be very stiff. 
Condimenti:
Cut the sausage into 1" (3cm) pieces. 
Chop the onion and pepper.  
Mince the garlic. 
Slice off stem end of fennel, remove outer layer if needed, otherwise rinse.
Cut fennel into 1/4" (.5cm) slices, then cut slices in half.
Heat olive oil in nonstick skillet over medium.  Add pepper, fennel and onion and sauté 5 minutes. 
Add garlic, sausages and sauté until sausages are cooked through, 7 - 8 minutes longer. 
Turn heat to low and let cook slowly until needed.
Day 4:

 Savory Pork Hash

Total time: 25 minutes
    Not a traditional meat for hash but the perfect way to use up the leftovers from a braised pork.  Toss in any leftover gravy or sauce and you have a moist hash with a bit of caramel crunchiness from the sautéed vegetables.
 Ingredients:
 Instructions:
Cut the potatoes - the long way, first in half, then in half again.  Now slice (the short way) about 1/8" (.25cm) thick. 
Cut the carrots in quarters the long way then slice the same thickness as the potatoes. 
Cut the celery in half the long way and then slice the same thickness. 
Roughly chop the onion. 
Mince the garlic. 
Cut pork into 1/2" (1cm) cubes.
Heat 1 tbs oil in large nonstick skillet over medium heat. 
Add carrots, potatoes and sauté for 5 minutes. 
Add 2 tbs chicken stock, cover and cook for 5 minutes. 
Uncover and add onion, garlic, celery. 
Turn heat to medium-high.  As chicken stock cooks off, vegetables will start to brown. 
Once they are starting to brown, reduce heat to medium, add paprika, thyme, pork and mix well. 
Using a spatula stir and flip vegetables occasionally until they are all nicely browned and done. 

If using leftover sauce:

Stir mustard into sauce.  Add to skillet, stirring until well combined and heated through.

If using chicken stock:

Mix stock, rosemary, cornstarch and mustard.  Add to skillet as above.
Serve.
Day 5:

 Chicken Breasts with Sherried Mushrooms

Total time: 30 minutes
    Mushrooms soak up the flavors they're cooked with, and when simmered with a bit of sherry, they turn simple chicken breasts into an elegant, gourmet dish suitable for guests... or just a delicious mid-week treat.  For a dinner party I would use the cream... Midweek I use the milk or stock - which is what's on the List.  
 Ingredients: 
2 chicken breasts, boneless, skinless
5oz (150gr) mushrooms
1/4 cup (2oz, 60ml) sherry
3/8 cup (3oz, 90ml) milk
1/2 cup (2oz, 60gr) shredded cheese,  Gruyère
1 tbs olive oil
1 tbs white Balsamic vinegar or white wine tarragon
 Instructions:
Clean and thickly slice mushrooms.
Heat oil in medium nonstick skillet.
Add chicken breasts and brown on both sides, about 10 minutes total.
Remove and keep warm.
Add mushrooms and vinegar to pan and sauté 5 minutes.
Add sherry to mushrooms and scrape up any browned bits.
Return chicken to pan, turn heat to low and simmer 5 - 10 minutes, until chicken is cooked through.
Sprinkle chicken breasts with cheese and cover briefly, just until cheese melts.
Remove chicken and cover with the pan lid to keep warm.
Increase the heat to medium high and add the milk to the pan.
Boil rapidly, stirring, for about 3 minutes, until sauce has reduced and thickened.
Spoon mushroom sauce over the chicken and serve.
Day 6:

 Stuffed Acorn Squash with Beef and Rice

Total time: 60 minutes, 35 if you use a microwave
     The squash bakes while the stuffing is prepared and just needs 10 - 15 minutes to finish.  I usually can't get all of the stuffing in, so I keep it warm and serve it on the side.  This stuffing has a bit of an Asian influence with toasted sesame seeds stirred in at the end.
 Ingredients:
1 medium acorn squash
1/3 cup Basmati rice
2/3 cup (5oz, 150ml) beef stock
6oz (180gr mince) ground beef
1/2 onion
2 cloves garlic
1 tsp minced fresh ginger 

or 1/4 tsp powdered

1 rib celery
1 tsp olive oil
1 tsp sesame oil
1/2 cup (4oz, 120ml) beef stock
3 tsp soy sauce
2 tsp Balsamic vinegar 
1 1/2 tbs cornstarch (corn flour, maizena) dissolved in 2 tbs water
2 tbs toasted sesame seeds
 Instructions:
Cut squash in half and scoop out seeds.  Either place face down on tray and microwave for 10 - 12 minutes or put into a baking dish, cover with foil and bake in 400F (200C) oven for 40 minutes. 

While squash cooks: 

Cook the rice in the beef stock 15 - 20 minutes or until all liquid is absorbed and it's done.  (Check your package directions for correct quantity of stock and cooking times.) 
Chop the onion and celery; mince the garlic, ginger if using fresh. 
Heat the oils in a nonstick skillet over medium heat. 
Sauté the onion and celery 5 minutes then add the garlic and ginger if using fresh. 
Sauté 5 more minutes or until onion and celery are tender and starting to brown. 
Add beef and sauté, breaking it up as it browns. 
Add soy sauce, vinegar, powdered ginger, beef stock and stir well to combine. 
Dissolve cornstarch in water. 
When beef mixture is simmering stir cornstarch in, a little at a time.  (You may not need it all).  You want it quite thick but not paste. 
When done add rice, sesame seeds and stir to combine. 

To assemble:

  When squash are ready (they should be almost done) remove from wherever they cooked and fill with the rice/beef mixture. 
Bake uncovered for 10 - 15 minutes, until stuffing starts to brown and squash is done.
Note: If the stuffing doesn't all fit (depending on size of squash) keep it warm and serve on the side. 
To toast sesame seeds:  Put them into a dry, nonstick skillet over medium heat.  Toss or stir them about in the pan until lightly golden, about 5 minutes.