Main Course Menu Plan: Week 10 
Fall II
Day 1:

Roasted Salmon with Red Pepper Sauce

Total time: 25 minutes
    The slightly spicy red pepper sauce is a nice contrast to the sweet salmon.  Save remaining Red Pepper Sauce for another use.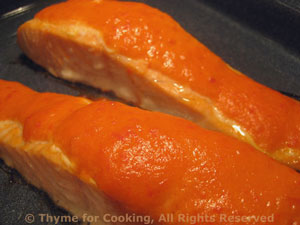 Ingredients:
2 salmon fillets,  12oz (360gr) total weight
1 tsp olive oil
1/3 cup

Red Pepper Sauce

Red Pepper Sauce:
1/2 red bell pepper
1/2 medium onion
1 clove garlic
2 tsp olive oil
1/2 tsp chili powder
1/4 cup (2oz, 60ml) chicken stock
1 tbs white balsamic vinegar
3 tbs Greek yogurt
 Instructions:
Red Pepper Sauce:
Roughly chop pepper, onion and garlic. 
Sauté pepper, onion, garlic and chili powder until vegetables are soft.
Add chicken stock, vinegar, cover and simmer 5 minutes.
Purée in blender with as little of the stock as possible.
Pour sauce out of blender into a small bowl and stir in yogurt.
Salmon:
Put salmon on lightly oiled baking sheet. 
Spoon some of the Red Pepper Sauce evenly over each salmon fillet.  You should use about 1/3 of the sauce.  
Bake at 400 F for 15 - 17 minutes, until fish flakes easily.   Serve.
Note:  For easy clean up cover pan with foil first.  This is especially nice if you are using fillets with the skin on.  You can carefully lift the salmon off the skin to serve, leaving the skin on the foil.  Then wrap the whole mess up and toss. 
Day 2:

Cornish Game Hens with Herb Sauce

Total time: 1 hour 10 minutes
    Small, perfectly roasted hens make an elegant presentation for individual servings (with maybe a snack leftover).   Remember to put bowls for bones on the table - and wet towels for fingers.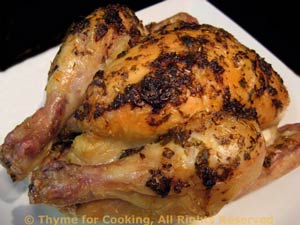 Ingredients:
2 Cornish Game Hens, poissin or little, individual chickens 

or 1 small whole chicken

2 tbs soft butter
1 1/2 tbs dried tarragon
1 1/2 tbs dried summer savory
1 1/2 tbs dried thyme
1/2 tsp salt
2 tbs olive oil
Herb Sauce:
1 tbs butter
1 shallot
1/2 tsp dried tarragon
1/2 tsp dried thyme
1/2 tsp dried savory
1 tbs flour
1/2 cup (4oz, 120ml) dry white wine
1/4 cup (2oz, 60ml) chicken stock
1/3 cup (3oz, 90gr) Greek yogurt, crème fraiche, or sour cream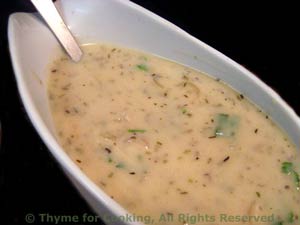 Instructions:
Wash hens and pat dry with paper towels.
Mix 1 tbs butter with 1 tbs each of tarragon, thyme and savory.
Divide herb mixture and put half into each of the hens.
Tie legs close and bend wings around and under the back - so it looks like they are lying there with their arms akimbo.  It keeps them from flapping and gives the hen something to rest on.
Lay them on a rack in a shallow baking pan. 
Rub the remaining 1 tbs butter over the hens and sprinkle the remaining 1/2 tbs of each herb and the salt over the top.
Put into 400F (200C) oven and bake for 30 minutes.
Pour 1 tbs oil over each hen and bake 20 - 30 minutes longer or until done.  I recommend the thermometer...
Herb Sauce:
Finely chop shallot or leek.
In medium saucepan sauté shallot and herbs in butter until shallot is tender.
Add flour and stir constantly for 1 minute with a whisk.
Slowly add wine stirring constantly to thicken.
Add stock and heat, stirring, to boiling.
Add yogurt and serve.
Day 3:

 Spaghetti with Ginger Meatballs

Total time: 35 minutes
    Fresh ginger and a bit of soy sauce add a subtle Asian flavor to these meatballs.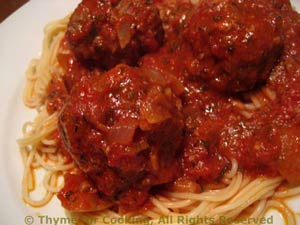 Ingredients:
10oz (300gr) ground beef
1 egg
1/4 cup crumbs
1 tbs Dijon-style mustard
1 tbs soy sauce
1 tbs Balsamic vinegar
1 tbs minced ginger, divided in half
2 cloves garlic, divided in half
1 onion, divided 1/4  /  3/4
1 tbs dried parsley, divided in half
1 tbs dried thyme, divided in half

4oz (120gr) spaghetti

 

(make a circle with thumb & index finger, about 1" (2.5 cm) - 1 1/4" (3cm) in diameter, you're own personal pasta measurer that you can never misplace!)

Sauce:
half of the ginger, garlic, herbs,  3/4 onion
1 tsp paprika
1 tsp olive oil
1 tsp sesame oil
1 tsp soy sauce
15oz (450gr) whole tomatoes
1 tbs tomato paste
1/2 red bell pepper
 Instructions:
Cook pasta according to package directions.
Mince garlic and ginger.
Roughly chop onion, then mince 1/4 of it.
Roughly chop pepper.
Roughly chop tomatoes, reserving all juices.
In a large bowl, lightly beat egg with a fork.
Add bread crumbs, mustard, vinegar, soy sauce, half of the ginger, garlic, herbs and the 1/4 minced onion. 
Mix well, add beef, mix well (use your hands). 
Form into meatballs, about 1.5" (5cm) in diameter. 
In large nonstick skillet heat oils over medium heat.
Add paprika and sauté briefly.
Add remaining onion, garlic, ginger and pepper.  Sauté until tender and onion is transparent, 5 - 6 minutes. 
Add tomatoes, sauce, tomato paste, soy sauce and remaining herbs. 
Heat to a simmer. 
Drop the meatballs in carefully, trying to keep them separate.  Cover and simmer until meatballs are done, about 15 minutes.  Stir once or twice. 
When pasta is done, drain and put into a large bowl. 
Pour meatballs and sauce over the top and serve.
Day 4:

 Pork Chops with White Wine and Capers

Total time: 35 minutes
    Boneless pork chops, quickly browned then simmered in a white wine caper sauce.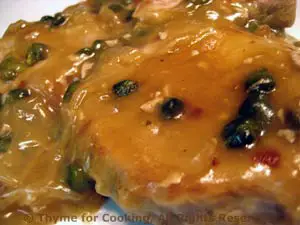 Ingredients:
2 - 3 boneless pork chops, 12oz (360gr) total weight
3 tbs flour
3 tbs capers
1 clove garlic
1 tbs olive oil
1/2 cup (4oz, 120ml) beef broth
1/2 cup (4oz, 120ml) white wine
 Instructions:
Spread flour on a plate.  Dip both sides of pork chops in flour, shaking off excess. 
Heat oil in a nonstick skillet over medium-high heat.  Add pork and brown on both sides, about 5 minutes each. 
Finely chop the garlic.  Add garlic and sauté 30 seconds. 
Add stock, white wine and capers, cover, reduce heat to low and simmer 15 minutes.  
Uncover, increase heat and simmer until sauce has reduced and thickened slightly.
Remove and serve.
Day 5:

 Sweet and Sour Chicken

Total time: 30 minutes
     This is based on the Chinese Sweet and Pungent sauces, but with red wine and without the soy sauce.  A simple, skillet chicken.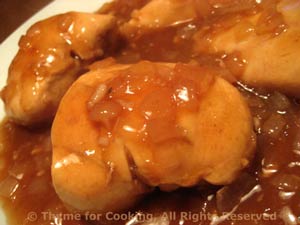 Ingredients:
2 chicken breasts, boneless, skinless
1/2 onion
1 tbs olive oil
3 tbs red wine
3 tbs chicken stock
3 tbs red wine vinegar
2 tbs brown sugar
2 bay leaves (laurel)
2 tsp cornstarch (maizena, corn flour) dissolved in 1 tbs water
 Instructions:
Chop onion.
Cut chicken breasts in half if large.
Heat oil in medium nonstick skillet.
Add onion and sauté about 5 minutes.
Move onions to the side and add chicken.  Lightly brown on each side, about 5 minutes.
Add wine, stock and vinegar and bring to a boil.
Add sugar and stir until dissolved.
Add bay leaves, cover, reduce heat and simmer 15 minutes.
Dissolve cornstarch in water.
Uncover and increase heat.
Remove bay leaves.
Add cornstarch and stir until thickened and clear.
Put chicken breasts on a small platter, spoon some sauce over and serve, remaining sauce on the side.
Day 6:

 Stuffed Bell Peppers, Oriental Style

Total time: 45 minutes
   Stuffed Bell Peppers don't always have to have tomato sauce and cheese on them.  Choose whatever color pepper you like.  You could substitute Basmati or regular rice for the brown. Try to get 4-sided peppers, they are easier to stuff and lie flat.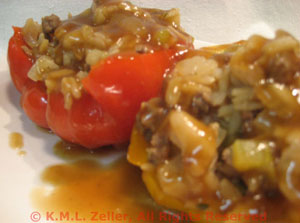 Ingredients: 
 Instructions:
Note: If you have any of the beef and rice left after filling peppers (as always, depends on size of peppers) just remove from skillet, keep it warm and serve on the side also.
Note2: Use quick cooking rice - it will cook in the time it takes to sauté the meat. The rice I use takes about 15 minutes.