Main Course Menu Plan: Week 3 
Spring II
Day 1:

Pan-Fried Salmon with Lemon and Capers

Total time: 15 minutes
    Lemon and capers combine to add lots of flavor to this simple preparation.  Quickly seared, they can finish cooking over low heat while you enjoy your starter.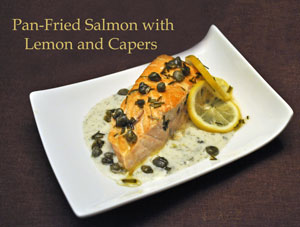 Ingredients:
 Instructions:
Day 2:

Chicken Breasts Stuffed with Ham, Spinach and Cheese

Total time: 40 minutes
     These are easy to make: slice a pocket, fill and tie.  They're baked with a drizzle of olive oil to make a crunchy crust.  I snipped the string in a few places to make it easier to remove but left it on when serving: they looked nicer! Get breasts that are on the large side.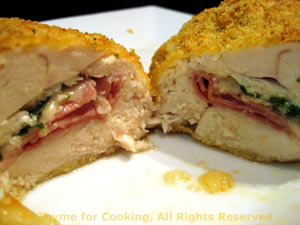 Ingredients:
2 chicken breasts, boneless, skinless
1.5oz (45gr) Gruyère or other hard cheese, sliced
2 slices Prosciutto (about 2oz, 60gr)
6 - 8 small spinach leaves
1 egg
1/4 cup dried bread crumbs
2 tbs Parmesan, grated
1 tsp plus 1 tbs olive oil
kitchen string
 Instructions:
With a sharp knife make a long slit in the edge of the chicken breast - cutting horizontally and being careful not to cut through the other side.  Make the cut on the 'straight' edge of the breast.  You should have a pocket the shape of the breast with 1/2 inch of 'uncut' chicken around 3 sides. 
Slice the Prosciutto and cheese to fit inside. 
Arrange 2 or 3 layers of Prosciutto and 1 or 2 of cheese in the 'pocket'.
Put the spinach on top of the cheese. 
Wrap the entire breast with kitchen string to hold it together - and keep as much cheese inside as possible. 
Lightly whisk egg and put into a shallow bowl or deep plate. 
Mix bread crumbs and Parmesan and put on to another plate. 
Lightly oil the center of a baking sheet, a large enough place for both breasts with an inch or 2 in between. 
Dip the tied breasts into the egg, coating all sides, then into the crumbs, coating all sides (use your fingers). 
Lay on the oiled sheet. 
Drizzle the tops with the rest of the oil and bake, 400F (200C) for 30 minutes, until the crust is golden and the chicken done. 
Remove, snip the string in a few places, and serve.
Day 3:

 Salad with Spinach, Ham, Avocado and Pasta  

Total time: 25 minutes
      This is a Spinach Salad rather than a Pasta Salad.  There is just a bit of pasta added for texture and to finish the meal. Use a thick slice of ham, either Prosciutto-type, or regular deli-ham. 
 Ingredients:
8oz (240gr) ham, cooked
1 avocado
1/2 cup (3oz, 90gr) cherry tomatoes
6oz (180gr) fresh spinach
1 tbs fresh snipped chives   

substitute 1 tbs dried and add to dressing

1 tbs fresh marjoram or oregano leaves  

substitute 1 tsp dried and add to dressing

1/2 cup (2oz, 60gr) shredded cheese 

(cheddar, colby, whatever)

3/4 cup (2.5oz, 75gr) bite-size pasta
White Balsamic Vinaigrette:
1 tbs Dijon-style mustard
2 tbs white Balsamic vinegar
1 - 2 tbs Greek yogurt  optional
4 - 5 tbs good olive oil, for salads
 Instructions:
Cook pasta according to package instructions.
Prepare salad:
Make Vinaigrette. 
Slice ham into large strips.  Sauté the ham if you like, set aside.
Wash spinach if needed and drain / spin dry.  Sort through the spinach, discarding any damaged leaves, cutting the large leaves in half. 
Cut cherry tomatoes in half. 
Cut avocado, slice it thickly, then cut into chunks.
Snip/strip herbs if using fresh.
When pasta is done, drain but don't shake every last bit of water off. 
To assemble salad: 
Put spinach into a large bowl. 
Add hot, drained pasta and toss lightly to combine. (Tongs work best.)
Add half of the vinaigrette and toss to combine. 
Add the ham, avocado, herbs and tomatoes, toss lightly. 
Taste and adjust vinaigrette, adding more if you like. 
Sprinkle with cheese and serve, any remaining vinaigrette on the side.
White Balsamic Vinaigrette:
Place mustard, vinegar and yogurt, if using, in a small bowl and whisk to combine. 
Slow add olive oil, whisking constantly, to combine. It should be thick and emulsified when finished.
Note:  If you have any Prosciutto lurking in the fridge, add that to the salad as well. 
Day 4:

 Chicken with Broccoli and Olives    

Total time: 30 minutes
     This is a colorful dish full of Mediterranean flavors: capers, olives, peppers, lemon and garlic.  It's made like a stir-fry, leaving the vegetables with a bit of crunch.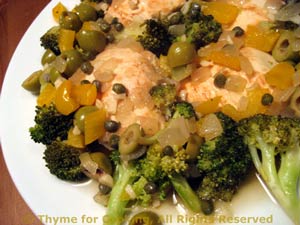 Ingredients:
2 chicken breasts, boneless, skinless
1/2 head of broccoli or one small head 
1 small yellow bell pepper
1 onion
2 cloves garlic
1/3 cup olives, black or green
1 tbs capers
1 tsp dried marjoram
3 tbs white wine or 3 tbs chicken stock plus 1 tsp lemon juice
1 tbs olive oil
 Instructions:
Slice onion about 1/8" thick (.3cm). 
Cut pepper in half the short way and then into slices, 1/4" thick  (.6cm). 
Mince garlic. 
Cut broccoli into bite size florets and stems. 
Cut chicken in half, the short way.
Heat oil in medium nonstick skillet.  Add onions, pepper, broccoli, and sauté 5 minutes. 
Add garlic and sauté another 2 minutes. 
Remove vegetables to a bowl or platter and cover. 
Add chicken to skillet and sauté 6 - 8 minutes per side, or until done. 
Pit olives if needed and cut in half. 
Return vegetables to skillet, add olives, capers, marjoram and wine or stock/lemon juice.  Stir to combine. 
Cover, reduce heat to low and simmer another 7 - 8 minutes to blend flavors. 
Arrange attractively on a small platter and serve.
Day 5:

 Pork Tenderloin with Mustard and White Wine Sauce

Total time: 35 minutes
     Pork and mustard go well together. It makes a lovely, quick, mid-week dinner, yet 'gourmet' enough for unexpected guests! If the tenderloin has a lot of 'silver', trim it with a sharp knife before slicing.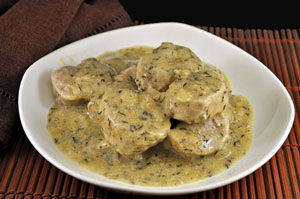 Ingredients:
1 pork tenderloin, 14oz (420gr)
1 small or 1/2 medium onion
1 clove garlic
1 tbs olive oil
1 tsp thyme
2 tbs Dijon-style mustard
1/2 cup (4oz, 120ml) chicken broth
1/2 cup (4oz, 120ml) white wine
2 tbs cornstarch (maizena) dissolved in 3 tbs chicken stock
 Instructions:
Thinly slice the onion and finely chop the garlic.  
Sauté onion and garlic in oil in non-stick skillet over medium-high heat. 
Slice the tenderloin into 1 inch (2.5 cm) thick slices. 
Brush 1 tbs mustard on one side of pork. 
When onion starts to brown, move it to the sides of the pan and sauté pork medallions mustard-side down for 5 minutes.
Brush remaining mustard on top and turn. 
Sauté for 5 minutes. 
Add thyme, stock and white wine to pan, reduce heat to low, cover and simmer 15 minutes. 
Dissolve cornstarch in chicken stock.
Uncover, increase heat, add cornstarch and stir until sauce is thickened.  
Remove pork to small platter, spoon sauce over and serve. 
Day 6:

 Stir-fried Turkey with Spring Vegetables    

Total time: 25 minutes
    This cooks quickly, as most stir-fries do, allowing the bright green, spring vegetables to retain their color.  I use Brown rice but substitute Basmati if you prefer. Add other spring vegetables if you have them.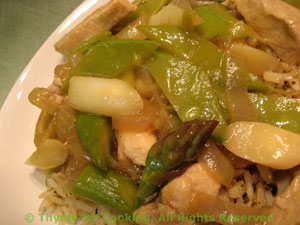 Ingredients:
10oz (300gr) turkey cutlets or tenderloin  

or you can use chicken

1 onion
2 cloves garlic
1 rib celery 

optional, not on list

6oz (180gr) asparagus green or white...

or a bit of each

4oz (120gr) snow peas (mangetout)
2 tsp sesame oil
2 tsp olive oil
1/2 cup (4oz, 120ml) chicken stock
1 tbs sherry

(optional)

1 tbs cornstarch (Maizena, corn flour) dissolved in
1 tbs soy sauce plus 1 tbs water
Brown Rice:
1/2 cup (3.3oz, 95gr) brown rice, quick-cooking
1 cup (8oz, 240ml) chicken stock or whatever your rice calls for
 Instructions:
Cook rice according to package instructions. 
Thinly slice onion. 
Mince garlic.
 Snap off the ends of the asparagus then roll cut into 1 inch (2.5cm) lengths. 
Trim snow peas, cut large ones in half or thirds. 
Cut the turkey into bite-size pieces. 
Heat olive oil in large nonstick skillet over medium-high heat.  
Add onion to skillet and stir-fry for 2 minutes. 
Add garlic and stir-fry another 2 minutes. 
Remove onion/garlic from pan and set aside.  Add sesame oil to pan and heat. 
Add turkey and stir-fry 3 - 5 minutes, until nicely browned.  Remove and put with onions. 
Add asparagus to skillet and stir-fry 3 minutes. 
Add snow peas to skillet and stir-fry 1 - 2 minutes longer. 
Return everything to the skillet.  Add chicken stock, sherry and bring to a boil.  
Dissolve cornstarch in soy sauce and water.  Add cornstarch mixture to pan and stir until thickened.  
Add more soy sauce if desired, according to taste. 
Serve over Brown Rice.