Main Course Menu Plan: Week 2 
Spring II
Day 1:

Sautéed Scallops with Pesto

Total time: 10 minutes
     These scallops are finished with a light, pesto-sherry sauce. A bit of crisp bacon rounds out the flavors and marries well with the sweet scallops. Scallops release a lot of liquid when cooked, so be careful not to crowd.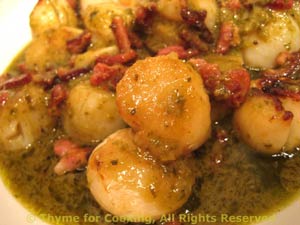 Ingredients:
10oz (300gr) scallops
2oz (60gr) bacon  

2 - 3 strips

1 tbs olive oil
3 tbs sherry
3 tbs pesto
 Instructions:
Rinse scallops and pat dry. 
Cut bacon into matchsticks. 
Heat oil in large nonstick skillet over medium high heat. 
Add bacon and fry until crisp.  Remove bacon. 
Add scallops and quickly sauté, turning once, until opaque. If there is a lot of liquid from the scallops, drain (a bit is okay). 
Reduce heat to low and add sherry, stirring to get up any browned bits. 
Remove from heat and stir in pesto. 
Add bacon, stir to combine and serve.
Day 2:

Braised Pork with White Wine, Olives and Sage

Total time: 1 hour 45 minutes
     Braised pork with the flavors of the Mediterranean.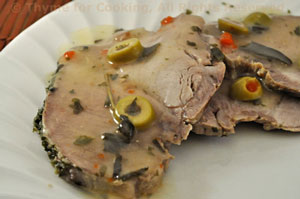 Ingredients:
1 pork loin roast, 20oz  (600gr)

2 tbs persillade 

which is

     1 tbs parsley

     2 cloves garlic - chopped very finely, together

10 - 12 sage leaves 

substitute 2 tbs dried

10 - 12 olives, black or green, pitted or not
1 cup (8oz, 240ml) of white wine
1 tbs olive oil
1 tbs cornstarch (maizena, corn flour) dissolved in 2 tbs chicken stock
 Instructions:
In heavy pot or oven with tight-fitting lid, brown pork in olive oil. 
Mince garlic and parsley.
After turning pork, spread persillade over the top of the pork.  
Add the sage leaves, olives and white wine, turn heat to low, cover and braise for 1 1/2 hours. 
Remove pork and keep warm.  Either use a meat thermometer or slice into the middle to make certain it's done.  Slightly pink is okay.  (If it's not done, cut into thick slices and put back into the pan for 5 minutes.)
Dissolve cornstarch in chicken stock. 
Stir cornstarch into pan juices to thicken.  
Cut pork into thick slices, spoon some of the thickened sauce over the top and serve, remaining sauce on the side. 
Day 3:

 Ham and Caramelized Onion Lasagne

Total time: 60 minutes
      Ham, sweet, caramelized onions and fresh mozzarella fill the layers in this lasagne; a snap to make with no-cook noodles.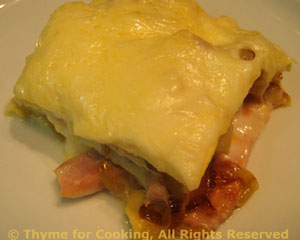 Ingredients:
 Instructions:
Day 4:

 Cuban Beef and Beans

Total time: 35 minutes
     Red beans and rice have gotten to be a popular item, recently. I added a bit of beef for a full dinner. Make it as hot or not as suits you. Use black beans or red kidney beans.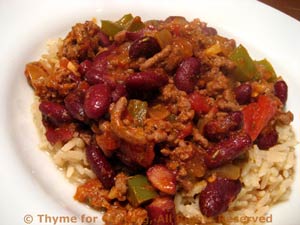 Ingredients:
1 onion
3 cloves garlic
1 small green pepper
1 tbs olive oil
15oz (450gr) whole tomatoes
12oz ground beef (360gr mince)
15oz (450gr) black beans or red beans
1 tbs Worcestershire sauce
1 tbs Balsamic vinegar
4oz (120gr) green chiles
1 tbs chili powder
1 tsp oregano
1 bay leaf (laurel)
anything else you would like to add to make it hotter - jalapeños, banana peppers?
Brown Rice:
1/2 cup (3.3oz, 95gr) brown rice, quick-cooking
1 cup (8oz, 240ml) beef stock
 Ingredients:
Chop onion and pepper.  
Finely chop garlic. 
Drain tomatoes, reserving juices, and roughly chop. 
Drain and rinse beans. 
Heat oil in large, nonstick skillet over medium heat.  Add chili powder and sauté 1 minute. 
Add onions, pepper, garlic and sauté 7 - 8 minutes. 
Add beef and sauté, breaking it up as it browns. 
Add tomatoes, juices, beans, Worcestershire, vinegar and herbs. 
Cover and simmer 15 minutes. 
Drain green chilies, chop if whole.  Add to skillet, simmer, uncovered, 5 minutes longer. 
Taste, adjust heat, remove bay leaf and serve over rice.
Brown Rice:
Cook rice according to package instructions.
Day 5:

 Chicken Breasts Balsamic

Total time: 25 minutes
    The little bit of brown sugar tempers the vinegar nicely.  If you don't have Balsamic you can use sherry or red wine vinegar - but increase the sugar to 2 tsp.  I cut the chicken breasts in half for a nicer serving portion.
 Ingredients:
 Instructions:
Finely chop onion and mince garlic. 
Heat oil in medium nonstick skillet over medium-high heat. 
Add chicken breasts and brown on both sides, about 10 minutes. 
Add onion and garlic and sauté 5 minutes longer. 
Add stock, vinegar and sugar, cover, reduce heat and simmer 10 minutes. 
Thicken sauce with cornstarch mixture (you may not need all of it) and serve.
Day 6:

 Choucroute Garnie

Total time: 30 minutes
    Like many classic peasant dishes, a proper Choucroute Garni will feed a very large family, and normally will have several kinds of pork, ham, sausage, and possibly even duck. This is a scaled down version.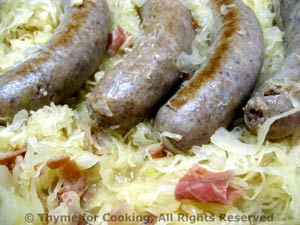 Ingredients:
4 - 8 sausages, depending on size, about 12oz (360gr) total weight
2oz (60gr) bacon or dry-cured ham
14oz (420gr) sauerkraut
1 tbs juniper berries
1 tsp black peppercorns  

or 1/4 tsp black pepper

2 cloves garlic
1/2 onion
1 tbs olive oil
1 bay (laurel) leaf
1/2 cup (4oz, 120ml) white wine
 Instructions:
The Kraut:
Open and drain kraut.  Taste it, if it's really, really strong, rinse it briefly with cold water. 
Chop onion and mince garlic. 
Heat oil in deep skillet.  Add onions and garlic and sauté until tender, about 5 minutes. 
Add drained kraut and all of the rest of the ingredients except sausages and bacon. 
Stir to combine, cover and simmer.
The meat:  
Fry bacon in a large skillet until crisp.  Remove. 
Add sausages to skillet and brown lightly. 
Crumble bacon and add to sauerkraut, stir to combine. 
Lay sausages on top of kraut, cover and continue to simmer until sausages are done, about 15 minutes. 
Stir once or twice to combine flavors. 
When done remove sausages to a platter, spoon kraut around (removing and discarding bay leaf) and serve.