Main Course Menu Plan: Week 12 
Summer II
Day 1:

Grilled Swordfish with Olive Shallot Relish 

Total time: 25 minutes
   You can use any fish suitable for grilling - tuna, swordfish, halibut, snapper.  They would all pair well with the olive sauce.  If you get sushi-grade tuna or swordfish you will want them seared but rare to medium-rare in the center.  Any leftover Olive Sauce can be used with other grilled meats or simply eaten with savory biscuits.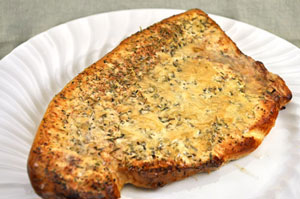 Ingredients:
2 swordfish or other fish steaks or filets, 6oz each (180gr each)
1 tbs olive oil
2 tsp Herbes de Provence
Warm Olive Relish:
2 medium shallots
2 cloves garlic
1 tsp Herbes de Provence
1 tsp fennel seeds
3 tbs chopped Kalamata or dry Greek olives
3 tbs chopped green olives
1 tbs olive oil
1 tbs lemon juice
4 tbs white wine
 Instructions: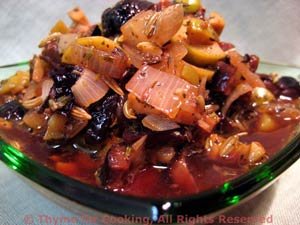 Brush fish lightly with olive oil and sprinkle with herbs. 
Put fish in a grill basket or cook on a grill pan, particularly if the fish is thinner filets. 
Cook on barbecue grill for 2 - 6 minutes per side, depending on thickness and grade of fish.  Walleye or snapper will become opaque when done.  Good tuna or swordfish you just want to brown the outside quickly. 
When done, put on a small platter, spoon some

Olive Relish

on and serve, remaining sauce on the side. 
Olive Shallot Relish:
Mince shallots and garlic. 
Heat oil in small nonstick skillet.  Add shallots, garlic and sauté until tender, about 5 minutes. 
Add fennel seeds, herbs and sauté 1 minute longer. 
Add olives, lemon and wine. 
Bring to a boil, reduce heat and simmer 1 minute. 
Remove from heat, put into a small serving bowl. 
Cover to keep warm until ready to use.
Note: Can also be cooked under broiler or sautéed in nonstick pan for roughly the same amount of time. 
Note 2:  I threw a few wood chips on the grill for a slightly smoky flavor - thus the darker surface color.
Day 2:

Barbecued Stuffed Pork Tenderloin

Total time: 45 minutes
   It doesn't take a lot of stuffing... And it kind of oozes out the top.... But, it does get nicely caramelized on top and keeps the pork moist. Cook the pork, stuffing side up, without turning, in a covered grill.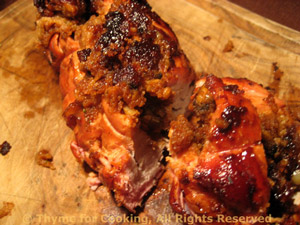 Ingredients:
1 pork tenderloin, 14oz, 420gr
2 tsp olive oil
1 1/2 tsp paprika
1 clove garlic, minced or crushed
1/3 cup chopped mushrooms about 1oz (30gr)
1 1/2 tbs bread crumbs
1 tbs ketchup
1 tsp Worcestershire sauce
1 tbs snipped fresh rosemary

substitute 1 tsp dried

1 tbs snipped fresh chives  

substitute 1 tsp dried

Barbecue Sauce:
1/4 cup (2oz, 60ml) ketchup
1/2 cup (4oz, 120ml) tomato sauce 
2 tbs cider vinegar
2 tbs molasses
1 tbs Worcestershire sauce
2 tsp dry mustard
2 tsp dried oregano
1 tsp garlic powder
 Instructions:
Chop mushrooms
Mince or crush garlic. 
Heat olive oil in small skillet over medium heat. Add paprika and sauté for 1 minute. 
Add mushrooms and garlic and sauté for 3 - 4 minutes, until starting to brown and soften. 
Meanwhile, butterfly pork tenderloin - cut it in half lengthwise leaving 1/4 inch intact - so that you can open it like a book.  Open it and give it a couple of whacks with a meat mallet so that it lies flattish... or pound lightly with the edge of a plate.  You just want it to be flat and easy to work with. 
When mushrooms are done put into a small bowl and add bread crumbs, herbs, Worcestershire and ketchup. 
Mix well and spread on one side of pork about 1/8 inch from the edge. 
Fold other side over and tie with kitchen string.  Cut five 6 inch lengths of string and wrap around pork and tie every 2 inches - making certain that you do one as close to each end as possible.
Cook pork on barbecue grill for 30 minutes or until done, basting during the last 10 minutes with Barbecue Sauce.  When done, slice and serve with more Barbecue Sauce on the side. 
Could also be baked at 400F for 30 minutes or until done.  It is done when 'juices run clear', so - either poke it, slice it and take a peak or use a meat thermometer.  See techniques.
Barbecue sauce: 
Mix all ingredients in small sauce pan and bring to a boil over medium heat stirring frequently.
Simmer 10 - 15 minutes, remove from heat and use when needed. 
Sauce will keep for a week in the refrigerator.
Day 3:

 Cobb Pasta Salad

Total time: 25 minutes
   This is not a traditional pasta salad. With lots of vegetables and big chunks of ham, cheese and egg, no one will mistake this for a small side dish.  I didn't thoroughly cool the beans.  As I wanted them to retain a bit of warmth I just rinsed lightly.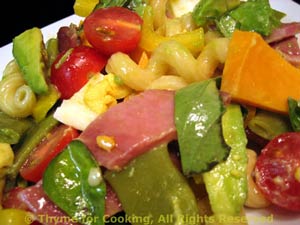 Ingredients:
8oz (240gr) ham or smoked turkey, thick slice 

get it at the deli counter

6oz (180gr) green beans  

I used flat, Italian or runner beans

2oz (60gr) cheese  

Cheddar, Colby

2 eggs, hard-boiled
1 avocado
1/2 orange bell pepper
1/2 cup (3oz, 90gr) cherry tomatoes
10 - 12 basil leaves
1 1/4 cups (4.2oz, 125gr) pasta, bite-size, fusilli, elbow
White Balsamic Vinaigrette:
1 tbs Dijon-style mustard
2 tbs white Balsamic vinegar
3 tbs salad olive oil
 Instructions:
Cook pasta according to package directions.  When done, drain.
Boil eggs.
Top and tail beans... cut off the ends.  Cut into 1 1/2 inch lengths (4cm).
Bring a medium saucepan half full of water to a boil over high heat.  
Add beans and blanch for 4 minutes. 
Remove, drain, rinse with cold water and set aside. 
Slice pepper, about 1/4" thick (.5cm) then cut slices in half. 
Slice ham or turkey and cheese into large, bite-size chunks. 
Cut cherry tomatoes in half. 
Cut avocado into large chunks.
When eggs are done, cool, peel and cut into chunks. 
Tear large basil leaves in half. 
Make vinaigrette:
Whisk vinegar,and mustard. 
Slowly whisk in oil and whisk until it emulsifies.

To assemble: 

Put drained pasta in a large bowl and add vinaigrette.  Toss well to combine. 
Add ham, peppers, tomato and beans, toss well. 
Add cheese, egg, basil and avocado.  Stir gently, just to combine. 
Serve.
Day 4:

 Soy Sauce/Mustard Turkey Cutlets, Grilled

Total time: 25 minutes
     Thin turkey cutlets go well with any marinade and are quickly cooked for an easy main course.  Thin pork or veal cutlets can be substituted, or chicken breasts.  If you can't find turkey, and want it, buy a breast or tenderloin and either have your butcher slice it or do it yourself.
 Ingredients:
2 - 4 turkey cutlets, depending on size,  12oz total (360gr)
1 tbs soy sauce
1 tbs Dijon-style mustard
3 tbs white wine tarragon vinegar
3 tbs olive oil
1/2 tsp garlic powder
1/2 tsp oregano, dried
 Instructions:
In small bowl whisk together all ingredients except turkey. 
Put turkey in a dish and pour marinade over.  Let marinate for 15 - 20 minutes or up to 2 hours.  
Remove from marinade and cook on hot barbecue grill for 3 - 4 minutes per side or until done. 

OR

sauté in nonstick skillet for 4 - 6 minutes a side or until done. 
Remove and serve. 
Day 5:

 Stuffed Peppers, Italian Style

Total time: 40 minutes
   I originally did this with a tiny pasta called Frog's Eyes (Acini di'Pepe), but I can't get it here so have substituted couscous.  You can use the pasta if you have it or even Vermicelli, but it will take a few minutes longer in the skillet.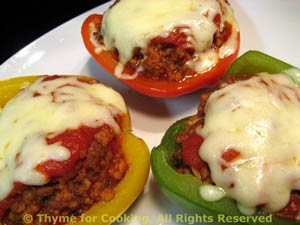 Ingredients:
 Instructions:
Put a large pot of water on high heat and bring to a boil. 
Cut peppers in half the long way (try to find the best flat sides before cutting so that they will lay nicely) and remove stem end and seeds.
When water is boiling drop peppers in and simmer for 5 minutes. 
Remove (use tongs) and put into a baking dish that will just hold them (if possible). 
Finely chop onion, celery and garlic. 
In nonstick skillet heat oil over medium-high heat.   Add paprika, fennel and chili powder and sauté 1 minute. 
Add garlic, celery and onion and sauté until transparent, about 5 minutes. 
Add beef and sauté until cooked through breaking it up as it cooks. 
Drain tomatoes, reserving 2 tbs of juice.  Chop and add to pan.  
Add reserved 2 tbs tomato juice, herbs, couscous and 1/3 cup red wine to skillet.  Stir well. 
Turn heat to low, cover and simmer until couscous is done, about 5 minutes, stirring frequently and adding more wine if necessary. 
When ready spoon mixture into the pepper halves.  Cover with foil and bake for 15 minutes at 400F (200C). 
Remove foil and top with cheese. 
Bake, uncovered for another 5 minutes.  Remove from oven and serve.
Day 6:

 Grilled Chicken Aioli

Total time: 30 minutes
  The marinade is quite thick and adds lots of flavor to the chicken.  It also protects it from drying out on the grill. It makes a nice presentation to slice the breasts, thinly, at an angle to serve.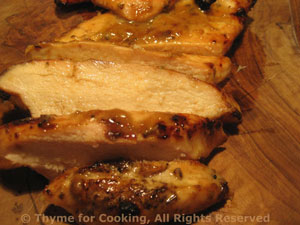 Ingredients:
2 chicken breasts, boneless, skinless
Marinade:
3 tbs soy sauce
3 tbs mayonnaise
3 tbs olive oil
1 tsp garlic powder - or 2 cloves minced
1 tsp dried oregano
 Instructions:
In small bowl whisk together the ingredients for the marinade - whisk well: it should emulsify (come together thickly).
Spoon over chicken breasts and let marinate for 10 - 15 minutes - or longer, up to 45 minutes. 
Remove from marinade and cook on barbecue grill for 8 - 12 minutes per side or until done (test - take a peak). 

OR

sauté in nonstick skillet for 8 - 10 minutes a side, until done. 
Serve, sliced or not.