Main Course Menu Plan: Week 3 
Fall I
Day 1:

Shrimp (Prawns) with Pesto Pasta

Total time: 25 minutes
   Served warm to bring out the flavors, the pesto works amazingly well with the shrimp, and the, more traditional, pasta.  If you have to clean the shrimp add 10 - 15 minutes.  You can use raw or cooked shrimp for this as the flavor is in the sauce rather than a marinade.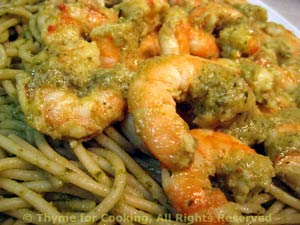 Ingredients:
 Instructions:
Cook pasta according to package directions.  When done, drain. 
Clean shrimp if needed, if not just rinse and let drain. 
Mix 2 tbs pesto, lemon and oil.  Add shrimp and toss to coat. 
Heat a nonstick skillet over medium-high heat.  Add shrimp and sauté for 3-5 minutes, until raw shrimp curl and turn opaque or cooked shrimp are heated through. 
To finish: 
Mix  1/3 cup pesto and oil.
Add to pasta and toss well to coat. 
Arrange nicely on a platter or large plate. 
Lay the shrimp on top of the pasta and spoon any remaining sauce from the pan over the top. 
Serve.
Day 2:

Roasted Cornish Hens with Lemon and Herbs

Total time: 65 minutes
    Small, perfectly roasted hens make an elegant presentation and are perfect individual servings (with maybe a snack leftover).  Lemon and herbs under the skin infuse lots of flavors.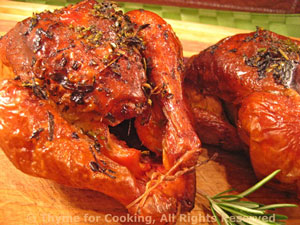 Ingredients:
2 Cornish game hens or poussin (little chickens)
1 tbs fresh thyme  

substitute 2 tsp dried

1 tbs fresh rosemary  

substitute 1 tbs dried

3 tbs lemon
3 tbs olive oil
1/2 tsp salt
1/2 cup (4oz, 120ml) white wine
 Instructions:
Day 3:

 Pissalidière

Total time: 1 hour 10 minutes
    In the traditional Pissalidière, there are lots and lots of very slow-cooked onions, anchovies and wrinkly oil-cured black olives - with pits.  If you really hate anchovies, leave them off; if you're undecided, this may convince you to like them.  The feta is not traditional, but my addition.  And I prefer to use pitted olives.  I also sped up the cooking of the onions, but, I think, with no appreciable loss of flavor.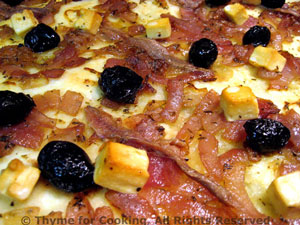 Ingredients:
Crust

:   

You can use a purchased crust - but it won't save any time...

2/3 cup warm water, 105 - 115F, hotter will kill the yeast
1 pkg (2 tsp) active dry yeast

fast acting if you can get it

1/2 tsp sugar - you need this to 'feed' the yeast
1/2 tsp salt - you need this to 'control' the yeast
1 tbs olive oil
2 cups flour
Topping:
2 - 3 large red onions  (24oz, 720gr)
1 tbs olive oil
1 tbs butter
1 tsp dried savory
1 tsp dried thyme
2 bay leaves (laurel)
1/4 cup chicken stock
12 - 15 anchovy filets, drained    one small tin (2oz, 60gr) of anchovies in oil or brine - if oil, drain well, if brine, rinse and drain
20 - 25 black, dry-cured olives   these are normally dry-packed and wrinkly, get pitted if possible
4 - 5 oz (150gr) feta cheese   buy a chunk and cut it into small cubes, 1/4" (.6cm)

Truffle oil  

 

optional
 Instructions:
Crust:
Dissolve yeast and sugar in warm water and let sit a few minutes to 'proof' - start to look foamy to prove that the yeast is still alive. 
If you have a mixer with a dough hook put the yeast and all remaining ingredients in mixer bowl.  Blend with dough hook attachment until well mixed then kneed for an additional 3 minutes. 
Put in a warm place (75F, 24C) to rise, if possible. 
If making by hand put yeast in large bowl along with all of the rest of the ingredients minus 1/2 cup flour. 
Stir to combine. 
Put remaining flour on work surface, add dough and kneed until smooth and elastic - about 10 minutes. As remaining flour is incorporated dough will become less sticky. 
Put in warm place to rise. 
After dough has doubled in size, about 30 minutes, punch down.
Lightly butter a pizza pan or large baking sheet. 
Roll dough out with a rolling pin as best you can.  Then put on pan and stretch it to fit, patting it out with your fingers.  If it keeps springing back wait a few minutes.   Try not to put any holes in the crust.  You are now ready to assemble.
Topping:
Slice onions about 1/4" (.6cm) thick. 
Heat butter and oil in large, nonstick skillet over medium-high heat.  Add onions and sauté until they become soft, stirring frequently. 
Add herbs and stock, cover, reduce heat to low and simmer 20 minutes, until very soft. 
Uncover, turn heat up to medium-high and continue cooking until volume of onions has reduced by half and liquid has evaporated. 
Reduce heat if they start to cook too hard and/or brown.  We are not caramelizing these.  Cooking time should be about 45 minutes, total. 
When done, turn off heat, remove bay leaves and keep warm if not using immediately.
To assemble:
Spread onions evenly over crust. 
Arrange whole anchovies on top of onions. 
Top with whole olives and feta cubes.
Bake at 450F (225C) for 20 - 25 minutes, until crust is golden brown. 
Remove from oven, drizzle with truffle oil if you have it, slice and serve.
Day 4:

 Pork Chops with White Wine and Capers

Total time: 35 minutes
     Boneless pork chops, quickly browned then simmered in a white wine caper sauce.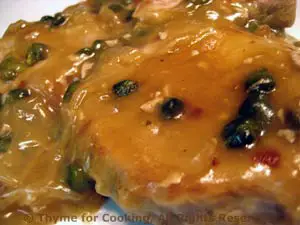 Ingredients:
2 - 3 boneless pork chops, 12oz (360gr) total weight
3 tbs flour
3 tbs capers
1 clove garlic
1 tbs olive oil
1/2 cup (4oz, 120ml) beef broth
1/2 cup (4oz, 120ml) white wine
 Instructions:
Spread flour on a plate.  Dip both sides of pork chops in flour, shaking off excess. 
Heat oil in a nonstick skillet over medium-high heat.  Add pork and brown on both sides, about 5 minutes each. 
Finely chop the garlic.  Add garlic and sauté 30 seconds. 
Add stock, white wine and capers, cover, reduce heat to low and simmer 15 minutes.  
Uncover, increase heat and simmer until sauce has reduced and thickened slightly.
Remove and serve.
Day 5:

 Stuffed Peppers, Italian Style

Total time: 40 minutes
   I originally did this with a tiny pasta called Frog's Eyes (Acini di'Pepe), but I can't get it here so have substituted couscous.  You can use the pasta if you have it or even Vermicelli, but it will take a few minutes longer in the skillet.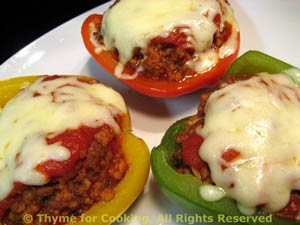 Ingredients:
 Instructions:
Put a large pot of water on high heat and bring to a boil. 
Cut peppers in half the long way (try to find the best flat sides before cutting so that they will lay nicely) and remove stem end and seeds.
When water is boiling drop peppers in and simmer for 5 minutes. 
Remove (use tongs) and put into a baking dish that will just hold them (if possible). 
Finely chop onion, celery and garlic. 
In nonstick skillet heat oil over medium-high heat.   Add paprika, fennel and chili powder and sauté 1 minute. 
Add garlic, celery and onion and sauté until transparent, about 5 minutes. 
Add beef and sauté until cooked through breaking it up as it cooks. 
Drain tomatoes, reserving 2 tbs of juice.  Chop and add to pan.  
Add reserved 2 tbs tomato juice, herbs, couscous and 1/3 cup red wine to skillet.  Stir well. 
Turn heat to low, cover and simmer until couscous is done, about 5 minutes, stirring frequently and adding more wine if necessary. 
When ready spoon mixture into the pepper halves.  Cover with foil and bake for 15 minutes at 400F (200C). 
Remove foil and top with cheese. 
Bake, uncovered for another 5 minutes.  Remove from oven and serve.
Day 6:

 Baked Chicken Breasts with Mustard Crust  

Total time: 40 minutes
  The key to giving these a crispy crust is to drizzle them with olive oil after breading, before baking.  You could also spray them with olive oil or other cooking spray if you have it.  The crust keeps the chicken moist and the mustard adds an unexpected hint of savory sharpness.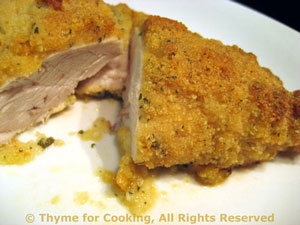 Ingredients:
2 chicken breasts, boneless, skinless
2 tbs Dijon-style mustard
2 tbs olive oil
1/2 tsp dried tarragon
1/2 tsp garlic powder
1/3 cup dried bread crumbs
1 more tbs olive oil
 Instructions:
In small bowl mix mustard, oil, tarragon and garlic. 
Spread on a plate or flattish bowl. 
Put bread crumbs on another plate. 
Roll chicken breasts in mustard mixture to coat thoroughly. 
Then roll in crumbs. 
Brush a baking sheet with a bit of oil and place breasts on
 Drizzle with remaining 1 tbs olive oil. 
Bake at 400F (200C) for 30 minutes or until topping is light brown and chicken is done (test if not sure, see techniques).
Remove and serve.