Main Course Menu Plan: Week 12 
Fall I
Day 1:

Vieux Carré Scampi

Total time: 30 minutes
    This is based on one of a 'box' of recipes I got years ago.  It's a bit heavy on the butter, which makes it ideal for serving over rice or pasta... or Quinoa.
 Ingredients:
12oz (360gr) shrimp (prawns)
1 tbs lemon juice
1 clove garlic, minced
1 shallot, finely chopped
1 tbs dried parsley
2 tbs butter

1/2 cup (2oz, 60gr) shredded cheese

-

your choice, I use Gruyère
 Instructions:
Clean shrimp if needed. 
Divide into 2 buttered, shallow, individual baking dishes or 1 larger one, arranging nicely. 
Divide garlic, shallots, parsley and sprinkle over shrimp. 
Drizzle with lemon juice, dot with remaining butter and sprinkle the cheese over all. 
Bake at 375F (190C) for 15 - 20 minutes, until hot, bubbly and shrimp are done. 
Time varies depending on size of shrimp.  Serve. 
Note: I put the small dishes on a baking sheet for easier handling.
Day 2:

Paupiettes

(Provençal Veal Rolls)

Total time: 70 minutes
    Thinly sliced veal or beef, rolled around a variety of stuffings are found all around the Mediterranean.  These, with dry-cured ham and olives, are typical of Provençal.  The meat should be between 1/16th and 1/4th inch thick (.4cm). It's best if you can have the butcher slice it.  Or buy veal scallops and pound them thinner if needed.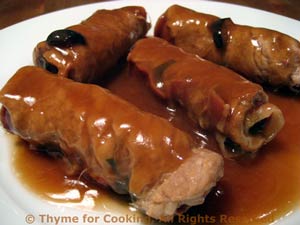 Ingredients:
4 thin slices veal, app: 3 1/2 X 6 X 1/16th inches  (8 X 15 X .4cm),  about 8oz (250gr) total weight
2 slices Prosciutto, cut in half to fit the veal
1/4 cup black, dry-cured or Greek olives
1.5 - 2oz (45gr) spinach leaves
1 tbs olive oil
1 cup (8oz, 240ml) white wine
2 tsp cornstarch (corn flour, maizena) dissolved in 1 tbs water
 Instructions:
Roughly chop the olives.
Lay the veal slices flat.  Pound to make thinner if needed.
Lay 1 slice of Prosciutto on top of each slice of veal.
Put a layer of spinach leaves on top of the Prosciutto.

Divide the olives and place on half of each parcel.

They'll spread themselves out as you roll.

 

Starting from the narrow end

(where the olives are)

roll the parcels up, keeping them as tight as reasonable. 

Tie securely with kitchen string.
Heat oil in small, heavy pot or skillet. Add the veal rolls and brown lightly on all sides.
Pour in the wine, reduce heat, cover and simmer for 1 hour.

To finish:

Dissolve cornstarch in water.

Remove veal rolls to a small platter and carefully remove string.
Increase heat under sauce. Add cornstarch, stirring until clear and thickened. Spoon over rolls and serve.
Note:  I didn't have kitchen string and discovered unflavored dental floss works great. 
Day 3:

 Spaghetti Carbonara

Total time: 25 minutes
    The eggs are cooked by the hot pasta and water to form a creamy sauce without the cream.  The classic Italian dish uses pancetta, but regular bacon or Prosciutto will work equally well.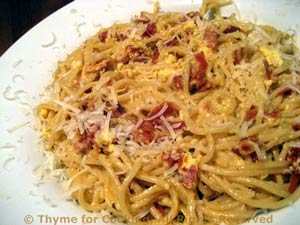 Ingredients:
4oz (120gr) spaghetti 

  about 1 1/4" (3cm) diameter bunch

4oz (120gr) pancetta  

substitute bacon or Prosciutto

2 tbs olive oil
2 eggs
1/2 cup Parmesan cheese (2oz, 60gr) plus more for sprinkling
 Instructions:
Cook pasta according to package directions. 

Slice pancetta or bacon into julienne strips. 
Grate Parmesan.
In medium bowl whisk eggs well. 
Add Parmesan and whisk.
When pasta is half cooked: 
Heat oil in medium skillet over medium heat.  Add pancetta and sauté until crisp. 
When pasta is done:
Drain, reserving 1/2 or all of the cooking water. 

(We only want 2 tbs, but we want it boiling hot.) 

Immediately put pasta into skillet with pancetta and toss well. 
Slowly pour 2 tbs of hot pasta water into the egg mixture, whisking constantly. 
Pour egg mixture over pasta, tossing well.  (Use tongs). 
Toss in skillet 1 minute, to heat through, then quickly put into warm bowl. 
Serve immediately with a bit more Parmesan for sprinkling.
Note: if pancetta is brown before pasta is ready, remove from heat, but make certain to have pancetta and pan hot again before draining pasta. 
Note 2: The addition of the hot water to the eggs is to 'temper' them, so they become a creamy sauce rather than scrambled eggs. If you heat in the skillet too long, however, they will still end up like scrambled eggs.
Day 4:

 Chicken with Onions, Bay and Thyme

Total time: 35 minutes
     We think of bay leaves as something that is used in tomato based dishes, but they have a wonderful flavor that marries well with thyme, and shines through in this simple dish.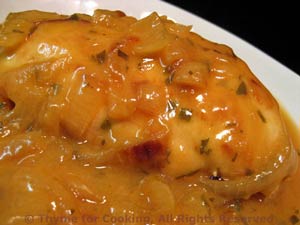 Ingredients:
2 chicken breasts, boneless, skinless
1 medium onion
2 cloves garlic
1 tbs olive oil
1 tsp thyme
2 bay leaves (laurel)
1/2 cup (4oz, 120ml) chicken broth
1/2 cup (4oz, 120ml) white wine
1 tbs tomato paste
1 tbs cornstarch (maizena, corn flour) dissolved in 2 tbs chicken stock
 Instructions:
Slice the onion and finely chop the garlic.
Sauté onion in oil in nonstick skillet over medium-high heat, about 5 minutes.
When onion starts to brown add garlic and sauté 1 minute longer.
Move onion and garlic to the sides of the pan, add chicken breasts, and sauté until lightly browned, about 7 minutes. 
Stir in thyme, bay leaf, wine, stock and tomato paste.
Cover, reduce heat and simmer until chicken is done, about 15 minutes.
Dissolve cornstarch in chicken stock.
Uncover skillet, increase heat and remove bay leaves.
Remove chicken to small platter.
Add cornstarch to onions and stir until sauce is thickened.
Spoon onions around chicken and serve.
Day 5:

 Pasta with Sausage, Sage and Beans

Total time: 25 minutes
     An easy skillet dinner, with lots of flavor from the sage and sausage. Sautéing the chili powder releases more flavor. If you like it hot, use hot Italian sausages, add some hot peppers or Tabasco.   It's a very flexible dish....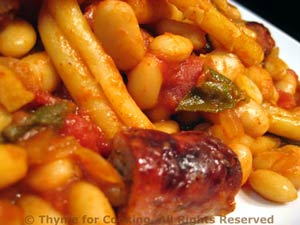 Ingredients:
 Instructions:
Cook pasta according to package instructions.
Slice sausages into 1" (2.5cm) lengths.
Chop onion and pepper.
Mince garlic.
Roughly chop tomatoes - reserving all juice.
Heat oil in large nonstick skillet over medium-high heat.  Add chili powder and sauté 1 minute.
Add onion, pepper and sauté 5 minutes.
Add sausage, garlic, sage and sauté until sausage is browned, 5 - 7 minutes.
Add tomatoes, their juices, and the cannellini, turn heat to low and simmer 10 minutes.
When pasta is done, drain and add to skillet, stir to combine and serve.
Day 6:

 Pork Amandine

Total time: 30 minutes
     Loaded with celery and almonds, this was a classic dish on the menu of the Chinese restaurant I worked with. I have added a bit more pork and some fresh ginger to my version and serve it over brown rice.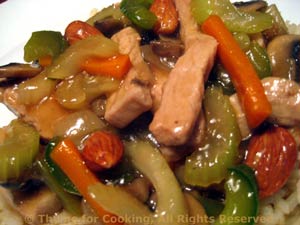 Ingredients:
 Instructions:
Brown Rice:
Cook rice according to package instructions.
Pork:
Julienne the pepper and carrot (techniques). 
Cut the pork into large bite-size pieces.
Heat olive oil in large nonstick skillet over medium-high heat.  
Add onion to skillet and stir-fry for 2 minutes. 
Add garlic, ginger and stir-fry another 2 minutes. 
Remove onions/garlic from pan and set aside.  
Add pork and stir-fry 3 - 5 minutes, until nicely browned. 
Remove and put with onions. 
Add carrots, mushrooms, peppers to skillet and stir-fry 5 minutes. 
Return pork, onions, garlic and ginger to pan. 
Add chicken stock, sherry, soy sauce and bring to a boil.  Cover, reduce heat and simmer for 5 minutes. 
Remove cover, add cornstarch mixture and stir until thickened. 
Stir in almonds and serve over rice.  
Add more soy sauce if desired, according to taste.