Main Course Menu Plan: Week 13 
Spring I
Day 1:

Barbecued Shrimp (Prawns)

Total time: 15 minutes, longer if you have to clean the shrimp
   Shrimp cook very quickly on the barbecue grill so be careful not to overcook, lest they be dry. They should just curl and be opaque.  The marinade helps retain moisture.  We cook them on a silicone grill mat, but a mesh pan will work, as well.... or skewers.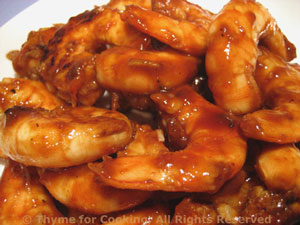 Ingredients:
12oz (360gr) large shrimp (prawns)
3 cloves garlic
2 tbs olive oil
1/4 cup ketchup
1 tbs soy sauce
1 tbs Balsamic wine vinegar
1 tbs molasses
1/2 tsp dry mustard
 Instructions:
Clean shrimp if needed, if not just rinse and let drain. 
Finely mince garlic and add to olive oil in medium bowl. 
Add shrimp and toss to coat.  Set aside until ready to cook. 
Mix ketchup soy sauce, vinegar, molasses and mustard, whisking well to combine. 
Just before cooking add about half of the barbecue sauce to shrimp and toss well. 
To cook on barbecue either put shrimp on skewers or cook in perforated grill pan or on a mat for 5 - 8 minutes, until done. 
To cook on stove add a little olive oil to a large frying pan and sauté over medium-high heat for 3-5 minutes, until done.  Shrimp are done when they curl and turn opaque. 
When done, remove from heat, toss with remaining sauce and serve.
Day 2:

Veal Chops with Herbs, Lemon and Garlic

Total time: 35 minutes 
   We get 'country' veal, which is grass fed, and butchered at an older age.  It's the color of lamb or pork and very tender.  We prefer it medium rare, and lightly flavored. We can't get nice, center cut chops, though... Substitute pork chops if you prefer.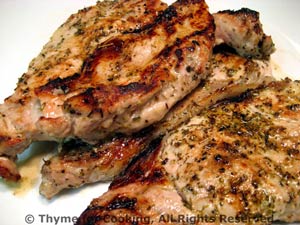 Ingredients:
2 (3 - 4 if they're small) veal chops, preferably center- cut and at least an inch thick
2 tbs lemon juice
2 tbs olive oil
2 garlic cloves
2 tbs snipped fresh marjoram or oregano,  

substitute 1 tbs dried

Sea salt
Pepper
 Instructions:
Snip herbs. 
Whisk olive oil, lemon juice, herbs and garlic.  It should emulsify. 
Spoon over chops and allow to marinate for 20 - 30 minutes. 
Grill chops on barbecue for 3 - 5 minutes per side, depending on how thick and how done you want them or broil about the same amount of time. 
Brush once with any reserved marinade.  Take a peak to see how done they are - when correct remove from grill. 
Sprinkle with a bit of sea salt, grind some pepper and serve.
Day 3:

 Chicken Breast with Lemon and Honey 

Total time: 30 minutes
    Chicken breasts are a favorite on the grill but be careful not to overcook or they tend to dry out.  We prefer to slice them thinly, at an angle, to serve, rather than leaving the breast whole, but that, of course is optional!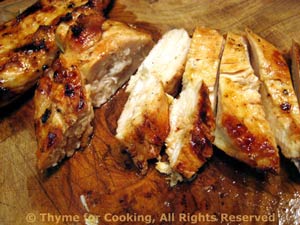 Ingredients:
2 chicken breasts, boneless, skinless
4 tbs lemon juice 
2 tbs honey
2 tbs olive oil
1 tbs soy sauce
1/2 tsp garlic powder
 Instructions:
In small bowl mix lemon juice, oil, honey, soy sauce and garlic powder.
  Place chicken breasts in a dish with sides and pour marinade over.  Let marinate 15 minutes or up to 4 hours in the refrigerator. 
Remove from marinade and cook on barbecue grill for 7 - 10 minutes per side, or until done,  basting with marinade until 5 minutes before removing (to make sure marinade is cooked). 
Could also be sautéed in a nonstick skillet for same amount of time. Serve.
Day 4:

 Grilled Pork Chops with Sweet Mustard

Total time: 25 minutes
  Lots of hot mustard is tempered by the sweetness of the marmalade.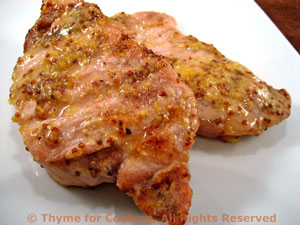 Ingredients:
 Instructions:
In small bowl stir together marmalade, mustards, garlic and oil. 
Spoon over chops and set aside while the grill heats. 
Remove from marinade and cook on barbecue 10 - 15 minutes turning once or under broiler for 12 - 15 minutes turning once - or sauté in large skillet 10 - 15 minutes (you get the picture). 
Baste with any remaining sauce before turning. 
In all cases it depends on thickness and test for doneness by slicing and peaking.
Remove and serve.
Day 5:

 Chicken, Asparagus and Avocado Salad

Total time: 20 minutes 
     Quickly blanched asparagus, stir-fried chicken and sliced avocado go together quickly for this simple, spring salad.  Some crusty country bread is the perfect accompaniment.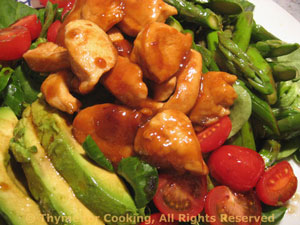 Ingredients:
 Instructions:
Vegetables:
Snap off asparagus ends.  Peel if using white. 
Cut asparagus into 1 1/2" (4cm) lengths. 
Bring a medium saucepan half full of water to a boil over medium high heat. 
Add asparagus and blanch for 2 minutes (3 for white). 
Remove, drain, rinse thoroughly with cold water and drain again.
Prepare salad greens, washing and spinning dry if needed
Slice tomatoes in half.
Remove avocado from shell and slice.
Chicken:
Cut chicken into large bite-size pieces. 
Heat oils in a medium skillet over medium-high heat. 
Add Teriyaki sauce and chicken; stir-fry 5 - 7 minutes until chicken is cooked through.
Vinaigrette:
Mix Teriyaki sauce, vinegar and sesame oil.
Slowly add olive oil, whisking constantly. 
Salad:
Arrange salad greens on two plates. 
Divide chicken and place in the center.  
Arrange avocado slices on one side, asparagus on the other. 
Add tomatoes. 
Drizzle a bit of dressing over all and serve, remaining dressing on the side.
Day 6:

 Warm Pasta Salad with Sausage and Peppers

Total time: 25 minutes 
   This is a bit of a cross between a hot 'winter' pasta dish and a cold 'summer' salad. Lightly dressed with Balsamic vinegar, it has the taste of a salad with very little oil.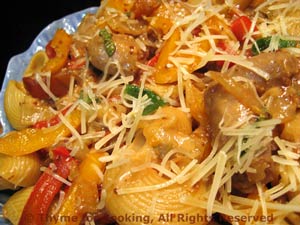 Ingredients:
1 1/4 cups (4.1oz, 125gr) bite-sized pasta  

penne, rigatoni...

12oz (360gr) sausages, total weight  

I used pork with herbs, you could use Italian, Brats, Turkey

1 red bell pepper
1 onion
1 tbs olive oil
2 tbs red wine  

substitute sherry

1 tbs Worcestershire sauce
1 tbs red wine vinegar
1 tbs whole grain mustard
1/3 cup shredded cheese
2 tbs fresh marjoram or oregano leaves   

substitute 2 tsp dried
 Instructions:
Cook pasta according to package directions.  Drain.
Slice pepper into long strips, then cut strips in half. 
Slice onion. 
Heat 1 tbs oil in large, nonstick skillet.  Add onions, peppers and sauté for 5 minute. 
Cut sausages into 1" (2.5cm) lengths and add to skillet.  Sauté until cooked through.
In a small bowl whisk together the wine, Worcestershire, vinegar and mustard. 
Add to skillet and bring to a boil, stirring to combine.
Remove from heat, add pasta and herbs, stir well. 
Put into a large pasta or salad bowl, sprinkle with cheese and serve.